Review: Praiseworthy Po'Boys
Mr. Po'Boys is a recently opened Louisianan kitchen located in Fairview. The restaurant was established after competing in the Food Network's "The Great Food Truck Race." They serve a range of menu options from catfish to fried green tomatoes as well as the traditional shrimp Po'Boy.
As I entered the building, I was greeted by the staff who were open to helping us out with orders and offered their recommendations. The building was decorated with steel and wood accents and bright red chairs to complement their logo. A large clear garage door took up the front entryway, allowing natural light in. The restaurant was relatively empty with just the staff and one couple in the dining area. A TV screen filled an entire wall of the restaurant and played game shows, making it feel more welcoming. 
While we browsed the menu, I noticed every sandwich on the menu had an unconventional name. After long contemplation, I ordered the "Ms. Madison," containing fried green tomato, avocado, coleslaw and remoulade. Every sauce is made in-house and is unique to each order. My group consisted of seven people, and we ordered our food to-go.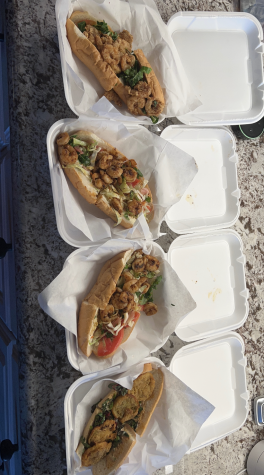 We ordered: "The Jerk, Mr. Thompson," "Mr. Barnyard," "Ms. Sweet & Spicy" and "Ms. Patricia," along with "Jalapeno Cheddar Hush Puppies" and "Fresh Cut Fries" on the side. While ordering, we had the option to get spicy or regular remoulade sauce. My group's consensus was that the spicy sauce was way too spicy, but no less flavorful. "Ms. Sweet & Spicy" was recommended to us by the host and was a hit amongst my group. The shrimp was perfectly cooked and seasoned on each sandwich. The bread to filling ratio was a little heavy on the bread side, but it did not take away from the overall taste. The fries had a unique seasoning that we thoroughly enjoyed. We were informed by the staff that the "Jalapeno Cheddar Hush Puppies" were a crowd favorite, and they did not disappoint. The hush puppies were served crisp on the outside alongside four other house-made sauces. 
The sandwiches were a bit on the pricey side, ranging from $8.95-$13.95 with "extras" available including a "heaping helping of shrimp" for another $4.99. However, I believe the hushpuppies were reasonably priced at $1.99 for the quality and quantity. 
Overall, this niche restaurant has great charm to add to Fairview, and I would dine there again. It provides a taste of Louisiana without the lengthy drive. Mr. Po'Boys' unique flavors, cheery staff and wide variety of meals made it a go-to destination. 
Rating: 9/10
Leave a Comment
About the Contributor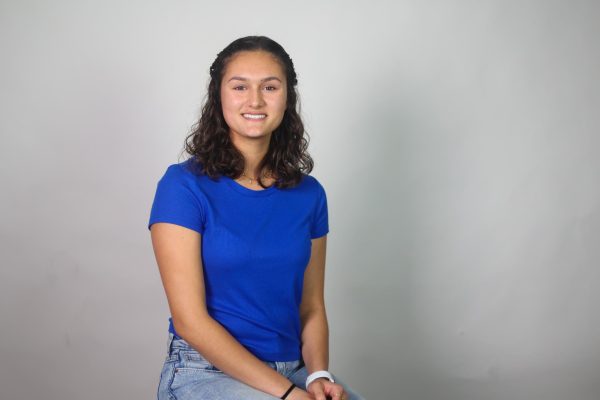 Marisa Green, Section Editor
Entering her third year writing for TRL, junior Marisa Green is excited to get back into the newsroom. Outside of TRL, Green spends most of her time in...