Review: Michael Bublé's 'Higher' falls short of expectations
To some, Michael Bublé is an artist whose music only comes on during the holiday season. However, Bublé has classics such as "Feeling good" and "Haven't Met You Yet" that can be played year round. On March 25, Bublé released his new album "Higher," marking his first release since 2018. 
The album has 13 songs and runs for just over 45 minutes. It starts off with "I'll Never Not Love You" which sounds similar to past releases, but it doesn't add anything new to Bublé's portfolio. This may have been intentional because it could draw fans in with its familiarity, instead it does the opposite.
Six of the songs on the album are covers of past hits. While this brought in Willie Nelson for his first collaboration with Bublé, none of them stand out. By no means should cover songs be better than the original, but they shouldn't be songs you want to skip when listening to your favorite album. Bublé also did his version of "My Valentine," by Paul McCartney; however, it was lacking anything special. 
"Higher," the song the album was named after, is one of the most unique songs on the album. It leans more toward pop music than his others do, and based on interviews, it's notable that the vibe of the song is what makes him happier. In the past, specifically before the release of his last album "Love," Bublé's music has taken a more somber tone especially after his young son's cancer diagnosis. This song allows him to take a step past that experience.
One of the other songs on the album, "Mother" has the right sentiment behind it as Bublé tries to honor his own mother, but it isn't up to Bublé's past standards. It is not a song that draws you to re-listen to it, and it did not really add to the album.
Bublé said his original inspiration for the album was the song "Smile" which is the last track on the album. A cover of Charlie Chaplin's song from the 1930s; this was a highlight of the mediocre album. It opens with a choir of background singers who are consistent throughout the song. Bublé's voice fits perfectly with the lyrics and music which plays into his strengths.
Overall, in an album that was supposed to be about Bublé branching out, he for the most part failed to do so. While his voice itself is never the issue, most people would need to skip through the album to find a song that they want to listen to on repeat. He should continue to try and bring in different types of songs, but should do it in a way that is unique to him. 
Rating: C+
Leave a Comment
About the Contributor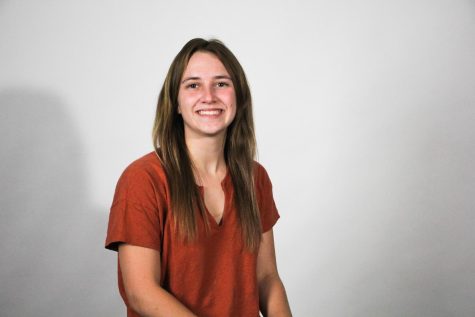 Audrey McCaffity, Section Editor
Beginning her fourth and final year on staff, Audrey McCaffity is more than excited to take on the role of Community Editor. The past four years have been...