Review: Rex Orange County's 'Who Cares?' is cohesive, intriguing
Rex Orange County is a 23-year-old indie artist taking the world by storm. Rex poses a question and statement that captures the attention of listeners with the release of his third studio album, "Who Cares?" on March 11. He's known for his synth-pop sound, and he continues his signature technique with a hint of orchestral music and upbeat rhythms. This album heavily references the claustrophobia many felt during the pandemic, but the themes of burnout are still extremely relatable today.
One of the top songs on the album, "Keep It Up," does a spectacular job of blending a synth beat with orchestral music. The lyrics in this song are a candid vocalization of burnout and are relatable. The chorus is catchy without being repetitive and evokes a feeling of optimism.
By far the most popular track on the album, "Open A Window" feat. Tyler the Creator, mixes Tyler's signature rap with Rex's crooning. Rex and Tyler have a long history of collaboration, but this is their most unique song yet. Fans of Tyler will be pleased by his verse, which features his catchy diction and lyrics true to his style. The lyricism is creative and leaves the listener on the edge of their seat. "Open A Window" carries some of the same themes as "Keep It Up" and can easily be listened to on repeat.
"Amazing" is one of the most lighthearted songs on the album. Its lyrics on the excitement of love and infatuation are genuine enough to put anyone in a romantic mood. It's reminiscent of some of his older love songs but fits with his new style well. The lovesick vocals contrast to the majority of the songs on the album. 
The titular track of this album "Who Cares" takes a slightly different, more nihilistic take. The opening vocals are captivating and hook the audience. The downtrodden lyrics contrast beautifully to the cheerful beat. Throughout the song, Rex leaves it up to the listener to decide if "who cares" is a question or statement. 
Overall, "Who Cares?" is an album with hits worthy of any playlist. Rex branches out into a fresh, more relaxed beat sure to excite fans. This new music somehow brings a feeling of mellow, careless bliss even in the face of difficulty. This album shows more range and adds diversity to his discography. It's cohesive and intriguing, but many of the songs are repetitive. It's refreshing to hear such authentic music that allows us a peek into the lives of the musician. "Who Cares?" is a treat for any listener.
Rating: A
Leave a Comment
About the Contributor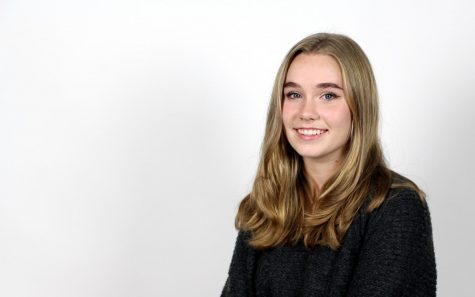 Libby Johnson, Staff Writer
Freshman Libby Johnson excitedly joins The Red Ledger for her first year in high school. Johnson is optimistic about the school year and can't wait to...