Swim and dive progresses to state
Last Monday and Tuesday, swim and dive competed at the regional level. The boys team took second place and the girls placed fourth. Many athletes performed well enough to advance to state.
"We have been preparing for regionals and state since the beginning of the school year," freshman Ava Easley said. "We have been working on a lot of things, mainly small things like technique and turns to help our swims be better."
Sophomore Grant Hu set a new region and pool record for the 200 IM with a time of 1:50.94 and also advanced in the 500 freestyle. 
"I was ecstatic because that had been my goal going into the meet," Hu said. "I was really excited that I had broken it. It was also a record by the legendary Jed Jones, so I'm super honored to have broken his record. I want to come back from Austin with a state title and memories with my teammates that I'll never forget."
Freshman Maria Faoro is the only diver for Lovejoy. After winning districts, she took gold at the regional meet in the one-meter springboard. In addition to beating her own school record, she set a new region 3-5A record and received the honor of the diver of the meet. 
"I felt pretty excited," Faoro said. "The record was set by a senior a few years ago, and [the fact] that I broke it as a freshman made it even more special to me. I'm really taking in every practice that I get, trying to fix all the little errors that I made at regionals to do the best list/dives I can do."
In addition to individual performances, four relays qualified for state. 
"We have a very close-knit bond on our relays," Hu said. "Every guy knows what he has to do in order to have a good race, and we always hype each other up leading up to it. The rest of the team cheers on the team like crazy, and we can't be thankful enough for their support."
In the girl's 200 freestyle relay, Ava Easley, Emmerson Dingwerth, Julia Stall and Camryn Sperling advanced with a time of 1:53.81, finishing in 5th place. Along with Camryn Sperling, Julia Stall, Medhan Karras and Emmerson Dingwerth in the girl's 200 medley relay with a time of 1:41.75. The girls 200 medley relay finished 4th and was only .52 seconds off the school record. The girls 400 freestyle relay finished 8th and did not advance.
"The 200 medley relay is the relay that includes all 4 strokes: backstroke, breaststroke, butterfly and freestyle," Dingwerth said. "So each person in the relay will swim 50 yards of their respective stroke. The 200 freestyle relay is essentially the same thing, but it's all freestyle. So each person swims 50 yards freestyle."
The boys 200 freestyle relay with Grant Hu, Jacob Pierce, Riley McGowen and Chris Pages placed 6th with a time of 1:29.53. The boy's 400 freestyle relay with Grant Hu, Jacob Pierce, Riley McGowen and Joel Walenciak placed 4th with a time of 3:16.01. 
This Friday and Saturday, the state meet will be held in Austin at the UT Natatorium. 
"We all felt really happy that all the hard work we put in paid off when we advanced," Easley said. "Now we are just relaxing and trying to get in the zone before state."
Leave a Comment
About the Writer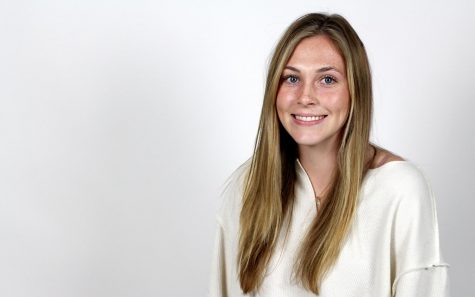 Mia Reaugh, Staff Writer
2021 is freshman Mia Reaugh's very first year in high school and TRL, and she is ready to tackle both. Reaugh loves everything about reading and writing,...