Swim places in district
The swim and dive team competed in districts at the Prosper Natatorium this past weekend on Friday and Saturday. The boys placed first for the fourth year in a row and the girls took second overall.
"We were definitely ready to take on the other teams in the district," sophmore Grant Hu said. "We knew that we were a stronger team, so all we had to do was put ourselves there and prove to everyone that we were a formidable opponent."
In the 200 m freestyle, Emerson Dingwerth placed first for the girls, Beau Rice placed second and Joel Walenciak took the helm at third for the boys.
"Throughout the season we've been working a lot on small details within each stroke and building a strong aerobic base to help us perform in meets," Dingwerth said. "I feel like we performed really well; everyone has been working really hard this season to improve."
Sophomore Grant Hu placed first in 200 IM and 500 freestyle. Other first placers included Riley McGowan in the 50 freestyle, Bennett Dingwerth in the 100 backstrokes, and Chris Pages in the 100 breaststroke.
"We are going into regionals knowing that nothing there is going to be handed to us," head coach Jeff Sagehorn said. "We are bringing our best and excited to compete against some of Texas' best as well as to represent Lovejoy."
Maria Faoro broke a new school record for diving while taking the first place medal. Other notable performances for the girls included a second-place for Devon Karras in the 100 butterfly and another second place for Kyra Chagarlamudi in the 500 freestyle.
"With this meet, our biggest competitor was Rock Hill," Dingwerth said. "They have 2-3 of the top swimmers in the state in their events. We knew it would be a tough meet going in. We also had to make sure to perform really well in our individual races since we knew that we wouldn't have much of a chance of beating their relays and could hopefully knock some of their swimmers down a few places in individual events to get us more points. Unfortunately, we weren't able to close the point gap but the team still did fantastic overall."
For the relays, the boys and girls took second place in the 200 Medley Relay, and in the 400 freestyle relay, the boys took first and the girls got third place.
"We knew that we were one of the stronger teams in district, so all we had to do was put ourselves out there and prove to everyone that we were a formidable opponent," Hu said.
The team looks ahead as they prepare for regionals, and then state in mid-February in Austin after that.
"Now we get ready for our regional swim and dive meet Feb. 3rd, 4th, and 6th," Sagehorn said. "This is our opportunity to get our athletes to the State meet in Austin. We are excited and ready to race."
Leave a Comment
About the Contributor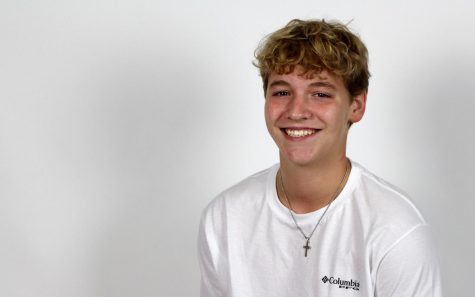 Will Doig, Staff Writer
Junior Will Doig enters his second year on The Red Ledger staff writing sports. Doig is involved in PALS and NHS in school. Outside of school, Doig is...