On the side
With Thanksgiving approaching, TRL's Ashlan Morgan found and prepared three side dishes to bring to the table. Morgan chose one savory dish, one sweet dish and one both sweet and savory dish. She reviewed the recipe, process to prepare and taste.
Green Bean Casserole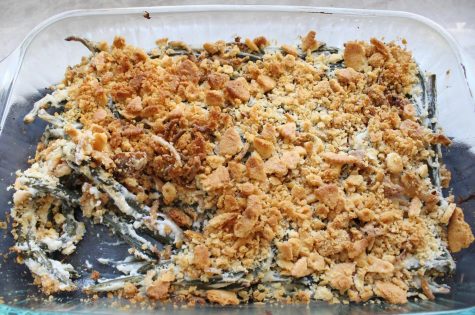 My favorite Thanksgiving dish is by far green bean casserole. However, my family has always stayed consistent with their recipe which consists of canned green beans and a very soupy/creamy base. For my dish, I found a recipe that uses fresh green beans and a less creamy base. The recipe I used came from Love From The Oven. The ingredients I needed were fresh green beans, butter, flour, salt and sugar, cream cheese and sour cream, heavy whipping cream and crushed crackers. First, I trimmed and boiled the green beans. While they boiled, I combined the butter, sour cream and cream cheese, flour and salt and sugar. After the green beans were finished, I combined them with my bready-cream mixture. I placed the mixture in a non-stick sprayed casserole dish, topped it with crushed Ritz crackers and fried onions and baked it for 30 minutes at 350. For someone who never cooks, this was a new process for me. However, I found this recipe to be incredibly easy to follow. It took me about an hour to prepare, including the oven cook time. To my delight, the casserole turned out delicious. The fresh green beans added a new taste, and the less creamy base made it a lot less filling. My family tasted the dish with me and decided it was a lot better than the previous recipe they have been using. With all things considered, I highly recommend this recipe, especially using the fresh green beans.
Chocolate Chip Pecan Pie Bars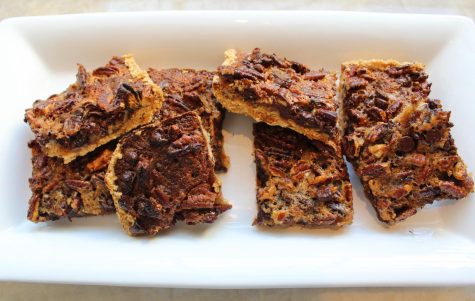 I love chocolate, but I hate pecans. However, everyone I know seems to love pecans, especially pecan pie during the holidays. Therefore, I found these bars and hoped for the best. The recipe I used came from Love From The Oven as well. The ingredients I needed were flour, butter, brown and white sugar, eggs, corn syrup, vanilla extract, chocolate chips and pecans. First, I used a food processor to combine the flour, butter and brown sugar to create a crumbley mixture. I pressed that mixture into a non-stick sprayed pan. Next, I combined eggs, corn syrup, sugar and vanilla extract into a mixing bowl. I poured in melted butter, chocolate chips and pecans last. After adding that mixture on top of the pressed crust, I put it in the oven for 25 minutes at 350. I thought the recipe I used proved fairly simple. I love to bake and the preparations for these bars went smoothly. It took me about 45 minutes to prepare, including the baking time. Despite my hate for pecans, I actually really liked these. The crust to pecan/chocolate layer was perfect and equally delicious. These were not too sweet nor too heavy. Personally, I thought this a great twist on pecan pie, especially with the chocolate touch and easy to eat aspect of bars. I am honestly surprised I didn't mind the pecan taste, so I have to count this recipe as a success. It also gave me a pleasant holiday taste that's right in between fall and winter. I highly recommend these, but I also recommend turning your favorite pies into bars for a slight twist.
Cranberry Brie Pastry Tarts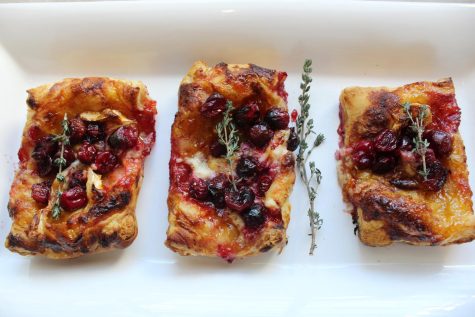 When I first started searching for Thanksgiving sides with a twist, I saw these and instantly knew I wanted to make them. Cranberry sauce and bread are two of my favorite sides at Thanksgiving, and I also love cheese, especially brie. The recipe I used came from Half-Baked Harvest. The ingredients I needed were fresh cranberries, butter, brown sugar, cinnamon, puff pastry, brie, apricot preserves, an egg and fresh thyme. First, I combined the butter, cranberries, brown sugar and cinnamon together. As a side note, trying the cranberries covered in the butter and sugar mixture was amazing. Second, I cut one roll of thawed puff pastry into 6 equal rectangle pieces. On the puff pastries, I added a layer of apricot preserves, two thin slices of brie and a few cranberries. Then I folded the pastries' sides in to keep the cheese from melting off as the recipe says. I brushed the edges with egg and baked the pastries for 17 minutes at 425. Out of the oven, I topped each with a short branch of thyme. It took me a little over an hour to prepare because it was a bit more complicated. However, I was incredibly excited for them, and they didn't disappoint. I found the taste to be so unique but also familiar with the cranberries. My only two complaints were that folding the pastries was a little meticulous and I didn't taste enough of the brie. However, overall I thought these were incredible. It combined my love for bread, the bitter taste of cranberries, but also the more unique flavors of the preserves and cheese. I'm glad I found the recipe and decided to make these. I highly recommend taking Thanksgiving side dishes or flavors and preparing them in a different way.
Leave a Comment
About the Contributor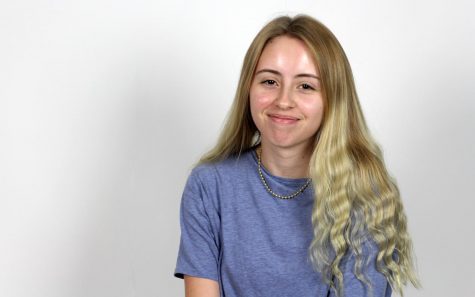 Ashlan Morgan, Staff Writer
Senior Ashlan Morgan is entering her final year of high school as a first year staff writer on The Red Ledger. Outside of school, Morgan keeps her Enneagram...