Review: 'You' season three brings suspense to the suburbs
Marriage is hard. It is a give and take relationship that relies on compassion, communication and trust. Being married as a psychopath and murderer is a whole lot harder. Season 3 of "You", explores the battles of marriage and raising a child through two psychopaths. The critically acclaimed show has themes of stalking, relationships, and manipulation.
Season 3 of "You" was released on October 15, and has a 92% rating on Rotten Tomatoes. "You" is based on a series of books by Caroline Kepnes. Viewers can currently stream all three seasons of "You" on Netflix. 
"You" has been an incredibly popular show for two seasons. Joe, the main character, is framed as somebody with a traumatic background, and who justifies his murderous actions by saying it was the right thing to do. Season one centers around Joe's life in New York City, and his stalking tendencies around a particular woman. In season 2, Joe moves to Los Angeles, hoping for a fresh start, only to be roped in with another woman, Love. Throughout season 2, Love is uncovered to be a murderer just like Joe, and will go to far extremes to protect their relationship. Love and Joe's relationship grows, and season 3 continues to be based around their relationship. However, now the love birds are married and Love is expecting a baby. 
The third season really focuses on the flaws of Love and Joe's relationship. Joe is made to be calculated and concise, and rarely makes abrupt decisions that could potentially backfire. Love, however, is seen as messy and has anger issues. The common saying "Happy wife, happy life" really applies to this season. Joe is constantly having to pick up after Love, and he keeps getting himself into predicaments which he has to find his way out. That is a part of what makes this season so enduring. The viewer is constantly questioning how Joe is going to work his way out of sticky situations. Most of the episodes in the series kept me on the edge of my seat, and wondering what was going to happen at any given moment. 
The new season introduces many new characters that add new layers to the show. Since the show is set in the suburbs, and is supposed to be about Joe and Love settling down together, some of the characters include Natalie Conrad, an up to no good neighbor, and Marienne, Joe's coworker. The different plotlines add action, suspense and depth to Joe and Love's story. 
One thing I didn't really enjoy about "You" season 3, was that the show was based during COVID times. Some may argue that shows shouldn't be afraid to tackle political debates about vaccinations, or that COVID should just be accepted as a normal setting in tv shows and movies. However, personally I thought the COVID concept was overdone and a little on the nose. 
Another thing I didn't appreciate about "You" season 3, was the underdeveloped or uncompleted story lines. There were many storylines that were not finished which made me curious and frustrated. A lot of the characters were simply thrown away, and their stories were abruptly over with no closure. 
Overall, "You" season 3 really encapsulated what it means to be a psychological thriller. The producers had a large reputation to fulfill from two successful seasons, and they did not disappoint. Although there were a few plot holes and underdeveloped scenes, the amount of twists and turns throughout the whole show keeps viewers on their toes and craving to watch the next episode. With a new season confirmed, fans are already wanting to uncover what happens next. 
Rating: A+
Leave a Comment
About the Contributor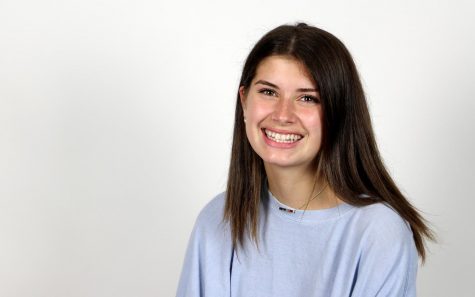 Eleanor Koehn, Staff Writer
Although Eleanor Koehn is a junior at the high school, this is her first year on The Red Ledger staff. Koehn is involved in cross country and soccer and...