Carving creativity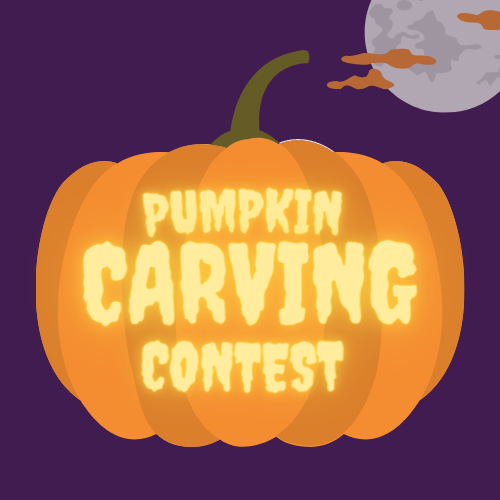 For Halloween, six staff members participated in a pumpkin carving contest. Students voted on the pumpkins for three categories: most creative design, scariest design, and best in show. TRL's Ashlan Morgan rated the pumpkins on creativity and scare factor.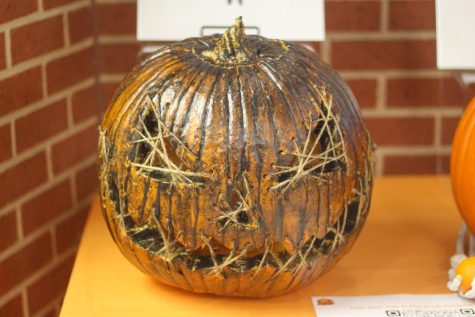 Pumpkin A
Our first pumpkin up is pumpkin A. The outside is painted over with streaked black glossy paint.  The inside is hollowed out and a single tealight candle flickers in the domed darkness. Two eyes, a nose, and a mouth are cut out of the pumpkin to create an ominous expression. Twine is weaved across the eyes, mouth, and nose. The unknown carver of this pumpkin did a masterful job of precise carving. I find the expression of the pumpkin a little basic, but the creativity of the paint and twine is a nice touch. I wouldn't say this pumpkin is paralyzingly terrifying, but it certainly is a little frightening. I give the creativity and the scare factor a 7/10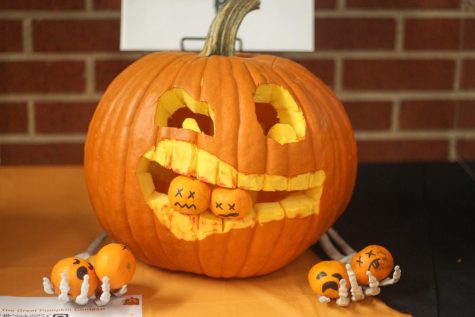 Pumpkin B
Our second pumpkin up is Pumpkin B. This pumpkin is not painted, but does have a sneaky expression carved into it. Within its bloody jaws are two seemingly dead oranges. Within its bony grasp are four terrified oranges who may or may not be its next victim. This pumpkin certainly has a taste for citrus. The unknown carver of this pumpkin excelled in creativity. I find the scene to be both amusing and a little concerning. Nevertheless, the craftsmanship and creativity are unmatched. If I was an orange, I'd consider running! I give the creativity a 10/10 and the scare factor a 5/10.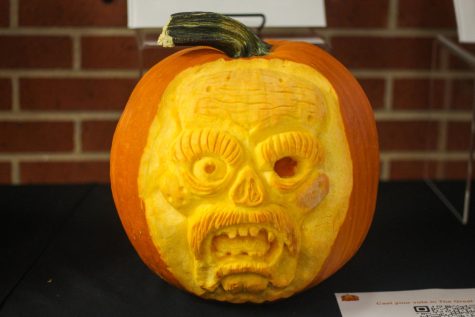 Pumpkin C
Our third pumpkin up is Pumpkin C. Carved into the front is some sort of freaky face. I'm honestly not quite sure what it is. My best guess is a cross between a goblin, Frankenstein, bigfoot, and an old man. However, I do not consider this a negative. The eeriness of this pumpkin is masterfully executed by the incredible craftsmanship. The details of the face are well designed, and I can guess this probably took a few hours of back pain to do. This pumpkin has some major wrinkles, a missing nose and eye, rotting teeth, massive eyebrows, and a solid 70s moustache. The unknown carver of this pumpkin went above and beyond. I give the creativity a 10/10 and the scare factor a 6/10.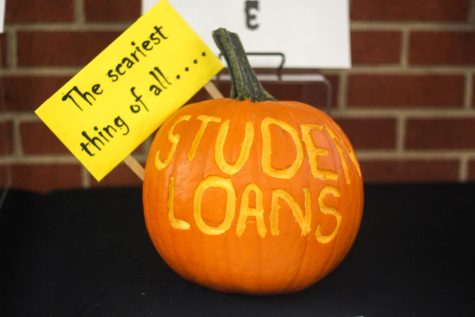 Pumpkin D
Our fourth pumpkin up is Pumpkin D. This simplistic pumpkin is sure to give seniors a terrifying sight into their upcoming years. Carved across the front are the words "student loans". They are accompanied by a sign reading "The scariest thing of all…" Medical students would agree. Although this pumpkin is quite plain, the words themselves are certainly frightening. I don't think a lot of time was put into this pumpkin, but I think a lot of anger was. Nevertheless, the unknown carver of this pumpkin brought a comedic approach to this contest. And maybe a bit of emotion. I give the creativity a 9/10 and the scare factor a 10/10.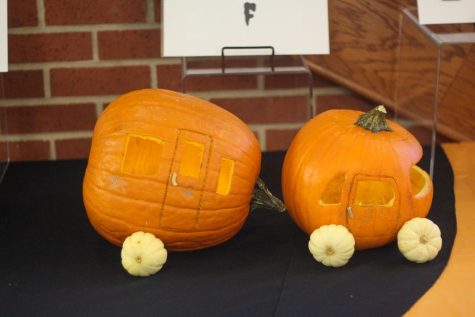 Pumpkin E
Our fifth pumpkin up is Pumpkin E. Two pumpkins are included in this piece. It took me a few minutes to figure out what was happening. My first thought went to Cinderella's carriage, but then I realized this probably was a car and camper. The two pumpkins are hollowed out and have windows carved into them. Little pumpkins are laid against the bottom to be wheels. At first I thought this was a little basic, but then I realized that it was quite unique. The unknown carver of this pumpkin did a great job with creativity. Although it is not scary and is quite simple, it is well-crafted and well thought out. I give the creativity a 6/10 and the scare factor a 0/10.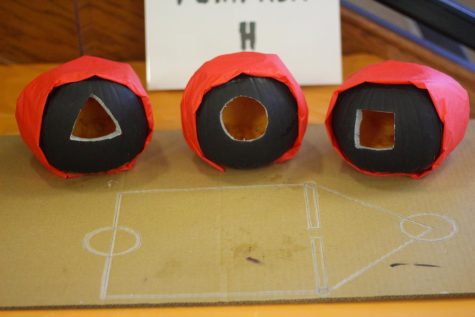 Pumpkin F
Our sixth pumpkin is Pumpkin F. Inspired by the new popular Netflix "Squid Games", these three pumpkins are painted black and wrapped in red paper. The well-known triangle, circle, and square are cut out of the front. The pumpkins are sitting on a cardboard Squid Game. Due to the popularity of this show, I find this idea to be pretty good. It catches the eye, especially to high schoolers. As I have only seen the first episode of "Squid Games", I can't say if the show is considered "scary". The unknown carver of this pumpkin certainly keeps up with pop culture and knows how to appeal to binge watching high schoolers. I give the creativity a 7/10 and the scare factor a 3/10.
Morgan voted pumpkin C most creative design, pumpkin D scariest design, and pumpkin B best in show.
Leave a Comment
About the Contributor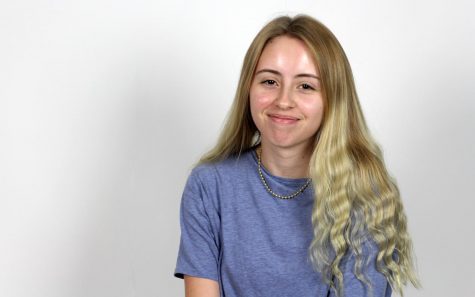 Ashlan Morgan, Staff Writer
Senior Ashlan Morgan is entering her final year of high school as a first year staff writer on The Red Ledger. Outside of school, Morgan keeps her Enneagram...