Home run to D1
Junior Hannah Harvey Sept. 27 decided to continue her softball career and committed to play at Kennesaw State University. Harvey plays for the school as well as club softball. 
 "[After committing,] I need to keep my main goal in focus and that is succeeding in high school and in club ball so that I can start preparing for the next step in my life: playing at a D1 school," Hannah said.
Hannah began her softball career at age four and she has continued playing for 12 years. She also played competitive soccer until age 12 when she had to make a decision between softball and soccer.
"When I was 12, I really had to kick it in gear and decide whether or not this was the sport that was going to be my everything or not," Hannah said. "I chose to focus solely on softball and I wouldn't change my decision for the world."
Since she began her softball career, she has constantly been involved in softball. She works outside of her practices to study film, condition, and ensure that she is successful. 
"She does conditioning each week, sometimes twice a week and she studies film, mostly of her hitting," Hannah's mom, Cyndi Harvey said. "If she doesn't think she had a good game or a good at bat, she studies to try and figure out what she needs to do differently so she can be successful in her next game." 
Softball season is year-round with the exception of a few months off in the winter. Hannah plays school as well as club ball for Impact Gold National Rodriguez 18u.
"The way you approach the game should never change, but I do think that the way club and high school differ is that there is a different level of competition," Hannah said. "When it comes to club, there is more fast-paced, high-level playing."
Receiving college interest began last spring season for Hannah. Through her years of development in softball, her parents say that she has gained valuable qualities that will benefit her later on in life.
"But she is such a hard worker, a perfectionist at the things she is passionate about, very coachable, and a good listener," Cyndi said. "Being part of a team has provided her with an invaluable experience of working within a group with the same goal in mind."
Hannah's recruitment process with Kennesaw State began Sept 1 when Coach MacKay invited Harvey to his camp. There he expressed his interest in having Hannah on his team and offered her a scholarship. 
"I fell in love with the facilities and the campus and even the town around the campus," Hannah said. "As soon as I got there it felt like home and somewhere I could see myself continuing the next chapter in my life."
Hannah was quick to accept the offer from Coach Mackay to continue her softball career at Kennesaw State. She says she has always had goals of attending a D1 college for softball. 
"Playing softball has afforded her the opportunity to play in tournaments all over the United States and all the friendships that she has made along the way," Jeff said. "Her enjoyment comes from her passion for the game and all of her successes and we know she will have the opportunity to continue that success at Kennesaw State."
After college, Hannah hopes to continue her softball career continuing the sports she has been playing almost her whole life. 
"The game of softball is a constant challenge," Hannah said. "It is a game of failure, I really love seeing myself fail and then watching the growth and the fight to do what it takes to overcome those obstacles and failures."
Leave a Comment
About the Writer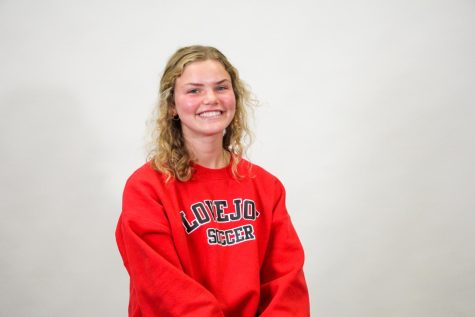 Margo Friloux, Section Editor
Entering her final year on staff, Margo is excited to work with her Co-Sports Editor and Leopard Life alum, Will Doig. This year is bittersweet to Friloux....