Softball strikes out of playoffs
Over the weekend, the softball season came to a close as the Leopards lost to Frisco Heritage in the Bi-District playoff series. The team lost both games in the best of three series, the first game 4-1, and the second 11-7. 
"I think the team played very well during the first round," junior third baseman/catcher Sydney Bardwell said. "We battled for two games straight and never gave up against a very elite team. The outcome didn't go our way and we ended up losing."
The team first faced the Coyotes on Thursday. Junior second and third baseman Hannah Harvey had the only run of the game.
"I believe overall the team played pretty well," sophomore shortstop and pitcher Skylar Rucker said. "In the first game, we played great defense with minimal errors. We just didn't hit great and couldn't score enough runs to pull out the win."
Frisco Heritage is ranked second in 5A and has a 26-1 overall record. Altogether, the leopards were able to score 8 runs against them.
"Our team's greatest accomplishments this season was how we overcame adversity when many situations didn't go our way," head coach DJ Lopez said. "From big injuries to many starters out at the same time, this showed the resiliency of our girls and our team got better and mentally stronger. This made myself and our coaching staff very proud."
On Friday, the girls faced Heritage again in a high-scoring match. The Coyotes took the lead early by scoring five runs in the first inning. In return, the leopards had a slight comeback in the fourth inning but ultimately fell short. 
"In the second game we started to hit better and score more runs," Rucker said. "But in the first couple innings, we made a few errors that caused Heritage to pull out the win. Overall I thought we played with a lot of fight and heart."
Freshman utility player Taylor Bradshaw led the team scoring two runs. Fellow freshman Addie George, juniors Sydney Bardwell and Hannah Harvey, sophomore Kamryn Messick, and senior Emma Bittlestone also contributed with one run each. 
"As we look toward next season, my goals for the team is to be undefeated in district and be district champions," Bardwell said. "I also want to make it to Austin and go to the state finals. We are going to achieve this by uniting as a team and working hard together every single day."
The team finished with a 13-17-2 record and finished fifth overall in district.
"I think one of our team's strengths was our mindset," Rucker said. "No matter if we had a bad at-bat or made an error or just had a bad game we didn't let it linger longer than it needed to. We flushed it and moved on to the next game."
Although the team's season was cut short, the team will look ahead to the 2022-2023 season. As for Coach Lopez, he has goals for the girls next season on and off the field and they all come from one important principle, growth.
"The goal for the years to come is to model being an elite individual in all that we do," Lopez said. "We must be solid and well-rounded in all aspects of the game of softball and of life in general. We will focus on our goals of winning championships and making sure our work ethic matches our goals as a program. Be your absolute best every time we step into a classroom, practice field, weight room, or meeting room. Growth in all aspects is the name of our game in our Lovejoy softball program."
Leave a Comment
About the Writer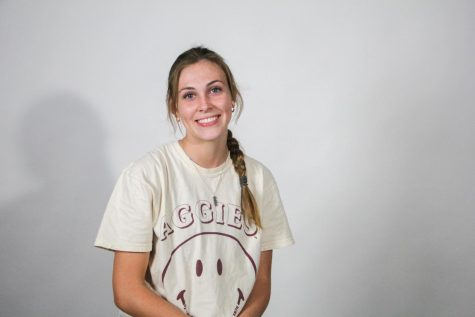 Mia Reaugh, Staff Writer
Going into her second year on TRL staff, sophomore Mia Reaugh is yearning to kick off the start of a new school year. When Reaugh isn't writing a sports...