Monthly melodies: October
This month's monthly melodies include music by Lil Nas X, Megan Thee Stallion, Ed Sheeran, and The Weeknd
"Thats What I Want" by Lil Nas X:
"Thats What I Want" by Lil Nas X is currently climbing the charts after its release on Sept. 17. This is the fourth single from his debut album "Montero." I feel his music is sometimes a little crazy, but I loved this song. It wasn't too much rap and had a super upbeat rhythm. The song also highlights his singing abilities which I enjoyed. I got a country feeling mixed with a beachy, pop sound. I was very surprised and will definitely add this to my playlist. 
"Crazy Family" by Megan Thee Stallion, Maluma and Rock Mafia:
Megan Thee Stallion, Maluma and Rock Family released their new song "Crazy Family" on Sept. 30. This animated track is featured in "The Addams Family 2," which was released on Oct. 1. The song definitely has a spooky feeling to it, but was also very upbeat. The song mixed Spanish lyrics with rap, resulting in an interesting, but good sound. I've never heard another song like this with the lyrics it has. It sounds like a child's Halloween song but upgraded. The song wasn't my favorite, but it will definitely be cool in the movie. I like the rhythm, but it was all over the place and difficult to follow.  
"=" album by Ed Sheeran:
"=" is Ed Sheeran's upcoming fourth studio album which follows the other in the series: +, x and ÷. There has also been a rumour that he is planning a double release with a "-" album as well. The full album releases on Oct. 29, and so far two songs have been released. His first single, Bad Habits, was very popular, landing a No. 2 spot on the charts immediately. It is currently No. 4 and has been on the charts for 13 weeks. His latest single, Shivers, was released on Sept. 10 and has been in the top 20 songs for two weeks now. So far, this album has been very successful. Personally, it isn't my favorite compared to some of his others. He has changed his style quite a bit in his latest releases. I'm used to "Thinking Out Loud" and "Shape of You" which are some of my favorite songs. When his new songs came out, I was disappointed. It's hard to find a meaning in them, and I don't feel as connected to them. However, only two songs have been released, so there is much more to come. 
"Take My Breath" by The Weeknd:
The Weeknd released his latest single, "Take My Breath," on Aug. 6. It is the lead song of his upcoming album, but there have been few details as to when it will be released. The Weeknd was very successful with his last album, "After Hours," so there's no doubt this one will be a hit as well. As soon as I started this song, I got Michael Jackson vibes from it. It is very upbeat and hip. I liked the lyrics of the song and how they told a story. However, I thought I was listening to "Save Your Tears" the entire time. The Weeknd released this song on Aug. 9, 2020 and it is still in the top 15 on the Billboard charts. To say the least, it is a very popular song. These two songs are extremely similar in their sound and I was very confused after listening to "Take My Breath." To be the lead and first release single from his new album, I would think it'd be different from his previous songs. Overall, I enjoyed this song, it just lacked originality.
"Donda" album by Kanye West:
"Donda" by Kanye West was fully released on Aug. 29. It was originally supposed to be released on July 24, 2020, but was delayed multiple times. "Donda" was named after his late mother, Donda West. As soon as the album debuted, it was number one on several charts including Billboard's Top 200. The lead song of the album, "Donda," has many gospel characteristics. It was very unique and made the song stand out. "Hurricane," one of the more popular songs, was released on Sept. 14 and is currently sitting at 31 on the Billboard charts. It features The Weeknd and Lil Baby and has a super cool beat to it. I really enjoyed this song and the harmonizing in it. However, my favorite song from the album is "Moon." It features Kid Cudi and Don Toliver and has an outer worldly feel to it. I love all of Kanye's music, as well as Don Toliver, so this song stood out to me. The vocals are beautiful and the whole production of the song is perfect. This album is overall very well done and exemplifies a lot of different attributes of his voice. 
Leave a Comment
About the Writer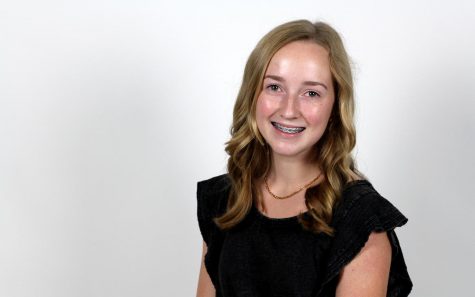 Campbell Lester, Staff Writer
After taking journalism in seventh grade, freshman Campbell Lester returns to writing for her first year on The Red Ledger. Outside of writing, Lester...