Halloween-horror-athon
Movies like "It's the Great Pumpkin, Charlie Brown," "Coco," and "Hocus Pocus" are what make the Halloween season so much fun. The nostalgia of the Halloween movies we grew up watching are a great way to kick off October. So, to see how these classic Halloween movies hold up, I'll be rating "The Great Pumpkin Charlie Brown," "Coco," and "Hocus Pocus."
"It's the Great Pumpkin, Charlie Brown"
First off, we have "It's the Great Pumpkin Charlie Brown." This edition in the Peanuts series was released in 1996 and follows Charlie Brown and his friends during Halloween. As usual, Charlie Brown isn't excited about the holidays. Meanwhile, Linus is trick or treating for the first time, but instead decides to meet the mythical "Great Pumpkin." All of his friends are skeptical he exists, but Linus doesn't stop believing. But when Linus skips out on Trick or Treating and the Great Pumpkin doesn't show, Linus' Halloween is ruined. Overall, this is kind of a depressing show. Charlie Brown and Linus are bullied, and the majority of the characters are kind of unlikable. Although, it definitely has a nostalgic element, and the cartoon artistry is really timeless and interesting. 
Overall rating: B+
"Coco"
Although "Coco" isn't technically a Halloween movie, it still fits the fall theme and is an absolute classic. "Coco" was released in 2017 and is a celebration of Mexican culture. It won the Academy Awards Best Animated Feature Film, Golden Globe Award Best Feature Film, and BAFTA Award for Best Animated Film. The movie is about Miguel, a young boy who aspires to be a musician. He lives in the town of Santa Cecilia in a family who has banned music because of his musician great-great-grandfather who left their family. On Dia De Los Muertos, Miguel wants to compete in a musical competition, but doesn't have a guitar. He steals a guitar from a shrine of his idol Ernesto de la Cruz and is sent to the joyful Land of the Dead. There, he learns that De la Cruz is his grandfather, but must find a way to make it back to the land of the living. In the Land of the Dead, he reconnects with his roots and learns the value of family and music. "Coco" is a joyful celebration of Mexican culture and family. The animation in "Coco" is gorgeous and brings to life the beauty of the Land of the Dead. The characters seem very genuine and Miguel is very lovable. The plot progression and plot twists were really fun to watch, and the songs in the movie were incredible. 
Overall rating: A+
"Hocus Pocus"
Last but not least, we have "Hocus Pocus." "Hocus Pocus" is a 1993 movie about three witches from the 1700s that are brought back to life and seek revenge. It's set in Salem, Massachusetts, where the witches called the Sanderson Sisters lived before they died. A teenager, Max, accidentally frees them. Max, Alicia, and his little sister Dani have to keep the witches (Winnifred, Mary, and Sarah) from becoming immortal. To do this, they steal their spell book and get help from a magical cat named Binx. Overall, "Hocus Pocus" is a really bizarre movie that tries to be scary, but is really mostly funny. The comedy was kind of enjoyable and the witches were ridiculous enough to be hilarious. The plot was kind of scattered, but I still found it slightly entertaining.
Overall rating: C+
Although some of these movies weren't my favorite, I still had fun watching them. Some of them, like "Hocus Pocus," were better to watch as a kid. Hands down, "Coco" was the best and "Charlie Brown" was second. 
Leave a Comment
About the Contributor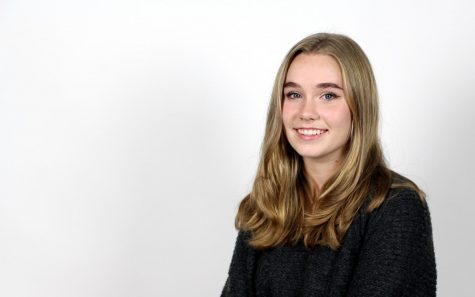 Libby Johnson, Staff Writer
Freshman Libby Johnson excitedly joins The Red Ledger for her first year in high school. Johnson is optimistic about the school year and can't wait to...