Review: 'Ted Lasso' season two develops into more than a comedy
After starting off as an NBC Sports commercial in 2013, Apple TV's "Ted Lasso" has now developed into a beloved TV series. "Ted Lasso " has won countless awards, most recently winning seven Emmy's including Outstanding Comedy Series. 
The first season introduces a large cast centered around Ted Lasso (Jason Sudekis) who is a NCAA Division II football coach turned premier league football (soccer) coach. Naturally, this provides for endless comedy and made the show quickly gain a large following. If the first season was defined by a single word it would simply be "joy." The second season continues on with its lighthearted and humorous storylines; however, it also introduces serious storylines regarding mental health that bring the show to a whole new level. 
Throughout season two, several players and Lasso himself are developed way deeper than before. The introduction of Dr. Sarah Fieldstone (Sarah Niles), the team's new psychologist, allows for a new sense of vulnerability to be found in Ted as well as some of the players on AFC Richmond. Ted is able to open up more and more as the season progresses, and the audience can't help but feel all of his emotions as his story unfolds. Even though it focuses on tougher topics, every episode still leaves you with a smile on your face. Mental health is important, and by bringing it into a show as wholesome as "Ted Lasso" it is raising much needed awareness. 
Each of the characters fits perfectly into the show, and all of them deserve recognition. Roy Kent's (Brett Goldstein) relationship with Keeley Jones (Juno Temple) grows immensely during season two, and it causes subtle changes in each of them individually that make the audience root for them even more. Rebecca Walton (Hannah Waddingham) leaves behind her serious and almost condescending personality to develop into more of a free spirit. Waddingham is incredible during this season, and her ability to play the character both ways is evident. 
Additionally, season two brings the underdog story of Richmond further into play. After being moved down a league at the end of season one, Richmond is looking to improve their record and move forward. There is not a single player (no, not even Jaime Tartt) who could ruin the team for anyone. Nobody wants a team full of good guys to fail, and the interest in seeing the team move to the premier league again adds another element to the story that keeps viewers watching. 
Season two also brings an unexpected couple into the story of AFC Richmond. While on most other shows, supporting characters' relationships are not nearly as important as the main character's' story, "Ted Lasso" takes time to show aspects of all the characters' lives. They not only add to the complexity of the show, but also increase the overall entertainment value. 
"Ted Lasso" has already been renewed for season three which will no doubt once again provide a light in peoples day. Sudekis originally planned for the show to only complete three seasons, but for now there is still a chance there will be more to come. The show is successful in having the ability to make you both cry and laugh in the same episode and that is no doubt a result of the amazing writing and cast. 
Rating: A+
Leave a Comment
About the Contributor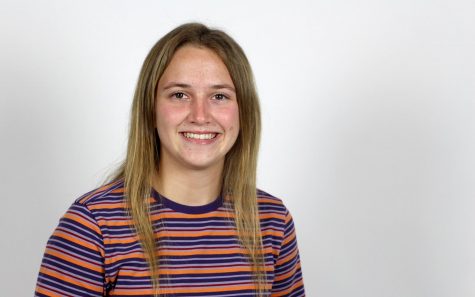 Audrey McCaffity, Section Editor
Junior Audrey McCaffity returns for her third year on The Red Ledger staff. She plays basketball, is a part of the National Charity League and loves spending...