Best in Texas: Chicken sandwich
Editor's Note: Best in Texas is a review series that showcases local shops, drinks and food to determine which is the best in the area. TRL's Anna Frost kicks off the series by reviewing four different smoothie shops. 
Today I'm going to be reviewing four different fast food restaurants to find out which has the best chicken sandwich. I will be visiting Chick-Fil-A, Popeyes, Canes and McDonalds. Now, I have a sensitivity to pickles, so we are going to be trying all these sandwiches simply plain with the chicken and the bun. For those of us out there who don't like pickles or mayo, it's important to know which one is the best. Because, in my opinion, you can hide low quality with pickles and sauce, plus pickles taste the same everywhere.
Chick-Fil-A:
First up was Chick-Fil-A. The price for one chicken sandwich is $3.49 but for a meal, it costs more. We waited for nine minutes in the drive through. The line was wrapped around the building, and per the stereotype, Chick-Fil-A was ridiculously efficient. Chick-Fil-A is said to be the original chicken sandwich, and while I have had it many times before, it isn't incredibly consistent with the size of the piece of chicken. While this does show that each piece is unique which shows better quality, in some cases, like this one, you get stuck with a scrawny piece of chicken.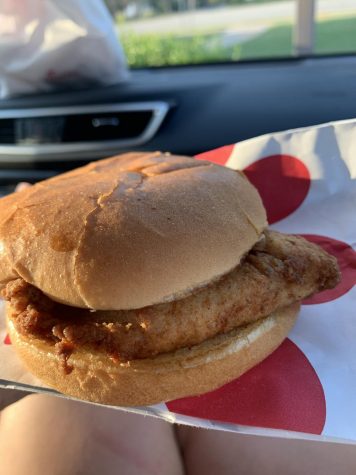 While Chick-Fil-A usually is great with chicken, both my brother and I got stuck with really sad pieces of chicken that you could barely taste. It was maybe a centimeter thick at most, but it tasted great. The bread is great and the breading on the chicken is nice and has a good crunch. It tasted like real chicken and was well seasoned. I'm usually not disappointed with Chick-Fil-A, but honestly, this trip was kind of a let down. 
Cost: 5/10, efficiency 6/10, taste 7/10, overall rating: 6/10.
Popeyes:
Next I went to Popeyes. The line was long, but not as long as Chick-Fil-A's. We waited in line at Popeyes for 30 minutes which was ridiculous. We could've gone through the Chick-Fil-A drive through three or four times before getting through Popeyes once. By the time we finally got our order the food was kind of cold, not to mention that the employees were kind of rude. The price for a plain chicken sandwich with no pickles and no sauce was $3.99. They offered both a spicy and regular option, I got the regular. The taste itself, well I'm gonna be honest it was really bland. The bread just tasted flowery and like a hamburger bun from Kroger. The chicken was good quality, well sized and juicy ,but it just was so poorly seasoned that I didn't really want to finish it. 
Cost 4/10, efficiency 2/10, taste: 5/10, overall rating: 4/10.
Canes:
Next up was Canes, The line wrapped around the building and we waited for eight minutes. They didn't sell just a plain sandwich so I had to get the combo, which cost $7.39. I didn't get the lettuce that is supposed to come with, and I don't think it comes with Canes sauce on the sandwich. The sandwich was really good. Like really good. It was basically just three Cane's chicken tenders on a roll that was made out of their, dare I say, heavenly Texas toast. Not to mention, the sandwich was absolutely huge so there's some bang for your buck. The bread on the chicken was really good and crunchy. The chicken itself was moist and honestly just absolutely delicious. I definitely think it was better than Chick-Fil-A. 
Overall ratings are cost: 5/10 (I'm giving them 50% because they didn't sell just the sandwich), efficiency: 7/10, taste: 9/10, overall rating: 7/10 (only because I didn't know the cost)
Mcdonald's:
Next was McDonald's, I got the crispy chicken meal for $3.00 for the plain sandwich. We were waiting in line for eight minutes and the line was maybe seven cars deep. When I finally got the sandwich, the packaging was cute but the chicken piece was so small and scrawny it looked like a chicken tender.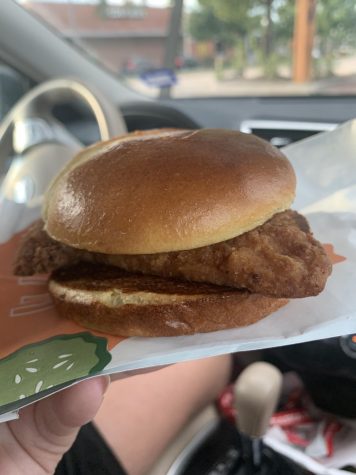 The taste itself was honestly just so not up to par with the other ones. It was bland and from everything from the packaging to the breading on the chicken, it was like a bad knock off of Chick-Fil-A. I honestly didn't even want to finish it. It was so dry and sad and honestly really bad.dry. I would not recommend it to my worst enemy. 
Cost: 6/10, efficiency: 7/10, taste 0/10, overall rating: 4/10
Overall:
Now for the final rankings. In first place we have Canes with a 7/10, it is honestly so good and everyone should try it. Next is Chick-Fil-A with a 6/10, it was good but it's a little bit inconsistent. Since both Popeyes and McDonalds scored a 4/10, they technically tied. However, I would rather wait another thirty minutes in the Popeyes line then have to eat the McDonald's sandwich again so Popeyes will take third.
Leave a Comment
About the Contributor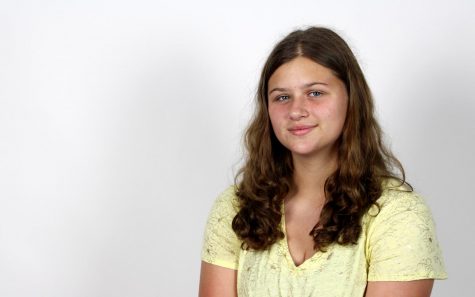 Anna Frost, Staff Writer
Anna Frost is starting her first year of TRL as a freshman, but don't worry, she's pretty fresh, man. Frost is often found on the basketball court or...