Leopard Look: Andrew James
Senior Andrew James is a student-athlete who started the Organic Permaculture club, competes in swimming and performs for the band. James has plenty on the calendar daily, however finds a way to manage his time properly.
At a Glance:
Favorite Swimmer: Michael Phelps
Go-To Fast Food Place: Chick-Fil-A
Favorite song: "Come And Get Your Love" by Redbone
Dream Vacation Spot: United Kingdom and Italy
Looking Deeper:
The Red Ledger: What made you start the Organic Permaculture club in the first place?
Andrew James: I developed a passion for growing my own fruit organically in my backyard in 7th grade. I was always curious why our high school had no agricultural program despite being located in a city full of farmers, so I wanted to be able to give students the opportunity to grow their own food and be exposed to the merits of a system of agriculture that fosters healthy food and a healthy planet. 
TRL: What takes place in the Organic Permaculture club?
AJ: Our club grows over 35 fruit trees, nitrogen-fixing bushes, 40 blackberries, 15 kiwi vines, melons, pumpkins, vegetables and herbs all organically using sustainable practices. The term "Permaculture" is the contraction of the words permanent and agriculture and is meant to create an ecosystem rather than just a garden which maximizes nature's natural functions as much as possible. A great example of this is a food forest which replaces inedible plants from a forest like oak trees with apple trees. Besides growing food, our club also participates at the Lucas Farmers Market, and we are constantly working on growing the club and property given to us by the school through new projects such as our raised bed garden, paths, fence, and shed. 
TRL: Who influenced you to perform in both swimming and band?
AJ: My dad was definitely the greatest influence in my choice to participate in both band and swim. He was a great competitive swimmer and also loved music. As a high school student in New York, he was never a member of a school band, but he did love playing music in college, medical school and had a few bands. His favorite instrument is the bass guitar, but he also plays the guitar and mandolin. 
TRL: How do you manage your time between all of these activities?
AJ: It has been extremely challenging to balance my time in all of these activities especially because I also want to excel in my academics, but if anything, I learned that as long as you commit to what you want to do and plan out your week, you can be successful in your pursuits. There are always times where I feel that one activity is preventing me from excelling in another, especially with my club, but after growing the amount of officers and members in the club, I can now rely on my club to continue to grow and thrive without my constant attention. 
TRL: What would be your advice to anyone who struggles with time management?
AJ: Make sure to plan out each week and try not spend too much time on things that distract you. Also, participate in what you enjoy the most because otherwise you'll be unhappy. If you are a leader in a club or organization, don't do everything but instead delegate more tasks to the people you trust. Also, just because you have a lot on your plate doesn't mean that you have no time for a social life or hobbies. 
TRL: What are your plans for college after high school?
AJ: In college, I want to study agricultural sciences which deals with the production aspects of growing food. I am especially interested in Pomology, the science of growing fruit, and would love to eventually run an orchard and vineyard. I am also pleased by the work of the Organic Farming Research Foundation.
TRL: If you had to change one thing about your high school career, what would it be? Why?
AJ:  I would have definitely started managing my time earlier. I did not start planning out my week until last year, so there have been multiple occasions where I forgot to do something important and ran out of time to do everything that I wanted that week. 
TRL: If you had to play another sport or be involved in another activity, what would it be? Why?
AJ: I am a big fan of swim, but if I kept them up through middle school, I would have loved to continue playing soccer and baseball. Baseball used to be my favorite sport, and I would love watching the St. Louis Cardinal games back when I lived in St. Louis. If I had more time, I would have also gotten more involved with the piano and drum set. I love both instruments and practice both for fun occasionally, but it would be super cool to be really good at them. 
Leave a Comment
About the Writer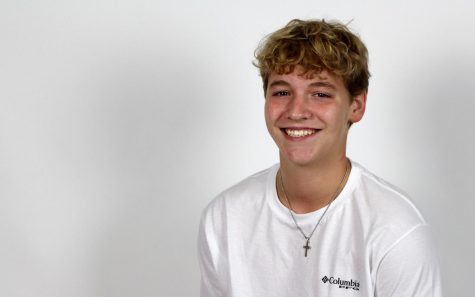 Will Doig, Staff Writer
Junior Will Doig enters his second year on The Red Ledger staff writing sports. Doig is involved in PALS and NHS in school. Outside of school, Doig is...