Review: Drake's 'Certified Lover Boy' includes mix of passive, active tracks
Drake released his sixth studio album on Sept. 3. The album includes 21 songs, with a 86 minutes long runtime. Drake also has many featured artists including Jay-Z, Travis Scott, Future and Lil Wayne. According to Rolling Stone Charts, within three days of the album's release, it received over 430 million audio streams just in the U.S. Without experience of ever listening to Drake before, I was excited to see what this album had to offer.
First off, I thought the album cover, being pregnant emojis, was very weird to say the least. It was rumored to display pregnant emojis because Drake released the album nine months late. 
The first song I listened to was "Champagne Poetry." The song started off very mellow and has a cool pitched up voice sample. The track also samples The Beatles' classic song, "Michelle." "Michelle" was on The Beatles' sixth album, just like "Champagne Poetry" is on Drake's sixth album. I thought it was fascinating how Drake correlated the albums together like that. I really enjoyed the beat, lyrics, and chill vibe of the track.
The next song I listened to was "Papi's Home." Unlike the last song, this one was very upbeat. I was caught off guard when I heard Nicki Minaj in the song, and it was a pleasant surprise. I found this track very enjoyable with it's danceable beat.
Next up was "N 2 Deep." At first, this track was very repetitive, and I found myself zoning out while listening. About half way into the song, the beat became faster and louder and woke me up. The song "TSU" also had that same effect on me when Drake mentioned many Texas cities. Me being a girl from Texas, I liked the vibe of "TSU" more than "N 2 Deep" 
"Love All" featuring JAY-Z talks about how people are befriending Drake for materialistic reasons and how he doesn't want to take it anymore. These lyrics are supposedly directed toward artist Kayne West. Drake seemed to bring his feud with him into the lyrics of this track. I personally don't like the music behind the song, but the lyrics seemed to resonate with a lot of his fans. 
"Pipe Down" is a fan favorite song because of the drama behind the song. The song is about Drake being done with a relationship he is in and asking his significant other to chill out, or be quiet. In the lyrics, he states that he believes that he has given everything in the relationship and is now feeling done. While other fans want to know who this song is about, I am simply glad whatever relationship Drake had turned into a great song. I really like how "Pipe Down" is a fast-paced song. This song would be great to sing in the car.
Lastly, I listened to "Fair Trade" ft. Travis Scott. This song talks about losing friends and finding peace. I found that this song is quite relatable to this generation. This song probably had the most meaning in the lyrics out of all the songs on the album. 
Overall, I was surprised about how much I enjoyed most of this album. Some of the songs were more memorable than others, like "Champagne Poetry". I didn't like how some of the tracks were slower and repetitive. The tracks that were more fun and upbeat made up for the more passive tracks. I think this album lived up to the hype around it, and I will definitely be adding some of Drake's songs to my playlists. 
Rating: B+                                    
Leave a Comment
About the Contributor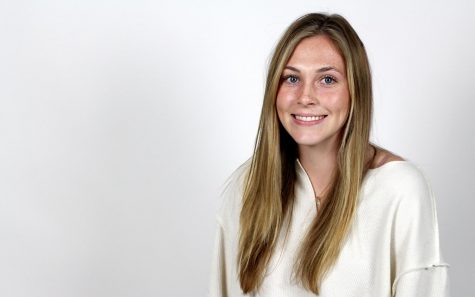 Mia Reaugh, Staff Writer
2021 is freshman Mia Reaugh's very first year in high school and TRL, and she is ready to tackle both. Reaugh loves everything about reading and writing,...