Review: Marvel's "Shang-Chi" sets standards for future
Moving forward from the era of online releases, Marvel's "Shang-Chi and the Legend of the Ten Rings" provides viewers with a well executed and balanced origin story, as well as a step forward in the Marvel Cinematic Universe (MCU). Concern over the movie's in theater only premiere was highlighted amid the ongoing lawsuit between "Black Widow" star Scarlett Johannsen and Disney; however, "Shang-Chi" broke Labor Day weekend box office records, earning approximately 71 million dollars. 
The movie focuses on Shang-Chi (Simu Liu), the newest hero, and his fight to prevent his estranged father from destroying his mother's village (Ta Lo) and the world using the power of the ten rings. After being introduced to his father's terrorist organization and the tragic story of his mother's passing, the timeline jumps forward to present day where we see Shang-Chi, currently going by Shaun, working as a valet driver with his best friend Katy (Awkwafina). A small amount of time is spent exploring their relationship before we see Shang-Chi get caught in his first fight that leads us back to his father. From here, Shang-Chi is on a mission with Katy by his side to find his sister, Xialing (Meng'er Zhang) and stop his father. Throughout this time, we are introduced to old and new characters within the MCU and end the movie with not one but two post-credit scenes. 
Simu Liu was perfectly cast in this breakout role. He brings humor, strength and love to the character that makes the audience excited for his future role in the MCU. Awkwafina's character, Katy, provides a large amount of comedic relief while still undergoing her own character development. The friendship between the two characters allows for an interesting and unique ending to the movie that is unlike any other Marvel project. 
The reintroduction of Ben Kingsley's "Iron Man 3" character in the film brings a sense of interconnectedness with the past while providing the movie with some of its most comical scenes. His character's relationship with Morris, an indescribable animated character, makes for perfect cinema. 
The score and soundtrack of "Shang-Chi" paired with the amazing special effects adds to the excellence of the movie. There are bright natural colors paired with beautiful background music that adds to the whimsical atmosphere of Ta Lo, bringing it to life. 
"Shang-Chi" sets the stage for future MCU projects using the post-credit scenes which creates a major sense of curiosity around upcoming releases. These scenes, when paired with an already amazing introduction story, complete a well-rounded movie. Unlike other Marvel movies, there is no prior knowledge needed to understand and enjoy the film. The bar Shang-Chi sets for the future of comic book movies is higher than one could have imagined. 
Rating: A+
Leave a Comment
About the Contributor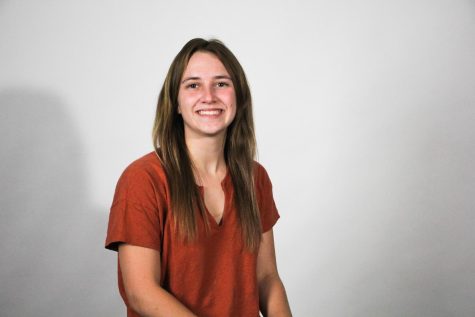 Audrey McCaffity, Section Editor
Beginning her fourth and final year on staff, Audrey McCaffity is more than excited to take on the role of Community Editor. The past four years have been...