Monthly melodies: August
This month's monthly melodies include music by Billie Eilish, Lil Nas X, Justin Bieber, and more
"Happier Than Ever" by Billie Eilish:
Billie Eilish released her "Happier Than Ever" album on July 30. This is Eillish's second album to debut at No. 1 on Billboard's Top 200. The album sold over 188,000 copies in the U.S. The most popular song on the album, "Happier than Ever," is catchy and empowering in a sense. Billie Eillish's change of genre within the song is especially interesting. The contrast of singing as if she were in a conversation to full on screaming takes you through the story of "Happier Than Ever". I know that my friends and I definitely enjoy listening to this song at full volume.
"Industry Baby" by Lil Nas X: 
Lil Nas X's "Industry Baby" came out on July 23. This rap/pop song includes prominent trumpet melodies and catchy verses. Rising to fame from his first hit, "Old Town Road," Lil Nas X gained a large following. Produced by Kanye West, this song has remained a hit sitting at the top of the charts globally. "Industry Baby" is a great song for jamming out with friends. "Industry Baby " takes the listener through the music industry and how Lil Nas X has been through it all. The driving beat and instrumentals contribute to what make this song truly stand out.
"STAY" by the Kid LAROI and Justin Bieber:
"STAY" by The Kid LAROI and Justin Bieber currently tops all social media and streaming platforms. This song is featured as No. 1 in Spotify's "Top Hits." After The Kid LAROI's attention across social media with his songs "Without You" and "Stay," the 18 year old artist recently collaborated with major performers, including Justin Bieber and Miley Cyrus. This high tempo song's tune is sure to get stuck in your head upon hearing it. I like "Stay" because it is a great motivating song to go on a run to.
"People Watching" by Conan Gray:
"People Watching" Conan Gray was released on July 14 . Following his most popular song, "Heather," "People Watching" peaked at No. 39 on the charts. The 22 year old indie/pop artist released this song about watching others' relationships. "People Watching" has a great intro leading up to its powerful chorus.  I discovered the artist through his most popular music on the social media app, "Tiktok," and have been interested in his music since. In my opinion, I like his other music compared to this, but this song gives off a different overall feeling.
"Skate" by Bruno Mars, Silk Sonic and Anderson .Paak:
Bruno Mars released his latest single, "Skate" on July 30. Aside from his earlier released single, "Leave The Door Open," Bruno Mars has not released an album since 2010. I personally loved and grew up to Bruno Mars' music. I know that I, along with other fans around the world, are really interested in what he will release next. "Skate" is in the R&B, disco and funk genres of music with a 70s vibe to it. For me, it is a very chill and easy listen, perfect for long car rides.
"Butter" by BTS ft. Meghan Thee Stallion:
"Butter" featuring Megan Thee Stallion was released Aug. 27, surprising fans of both artists. The unusual pairing of the K-pop boy band and the rapper, Meghan Thee Stallion join in a remix of BTS's popular hit, "Butter." Meghan Thee Stallion joins in for the rap portion of the song and other accompaniments. While unconventional in my opinion, the pairing of BTS's K-pop energy with Meghan Thee Stallion's fast moving lyrics make a great pairing, standing out from the crowd.
Leave a Comment
About the Writer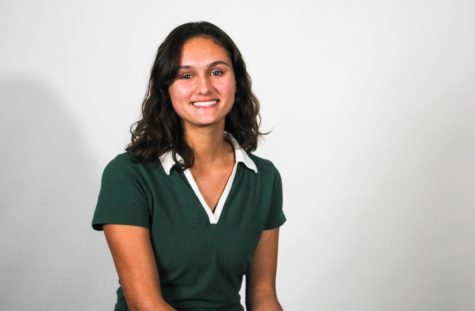 Marisa Green, Staff Writer
Entering her second year on staff, sophomore Marisa Green is excited to get back into writing for TRL. Outside of the newsroom, Green spends her time running...