Monthly Melodies: March
This month's musical picks include songs by Bruno Mars, Anderson .Paak, NF and Justin Bieber
"Leave The Door Open" by Bruno Mars, Anderson .Paak and Silk Sonic 
This enchanting new song hit its debut this past week on March 5 and has currently been hitting top charts. Bruno Mars and Anderson Paak performed this debut hit together at the Grammys this past weekend. Though we should expect nothing less from Mars, you can see that this pairing has a great future for them, and I was excited to listen to the rest of the songs off of this new album. Giving off that groovy, 1970s vibe, the song soon became No. 1 of iTunes's 100 Top Songs and reached over 3 million views online. Listening to this smooth jazz mixed with pop song really moves you to the groove to dance around, and the lyrics definitely bring you to a place where you want to dance in someone else's arms. The lyrics really allude to wanting someone to be in his arms and how he is going to "leave his door open" and hoping that she will come in. The song has already hit many different outlets in social media and live TV as it shows. James Corden and his crew from the rest of his show, Late Late Show with James Cordon, decided to already do their own retake on the song. But, you can see that everyone so far has decided that this is a song to listen to. 
"Lost (feat. Hopsin)" by NF
NF can be a controversial pick for some listeners, but if you're in the mood to release any emotions, specifically anger, he is definitely someone to listen to. His new releases over the past few weeks, starting with the release of "Clouds," and now with "Lost," you can see that his music is definitely hitting a population that needs someone to speak the truth for them. The song, released on March 13 has hit big all around the world with over 8.2 million views on YouTube alone. Let's not even start on the eye catching video that was released with this emotion packed song. Throughout the video,  NF carries his traditional black balloons as he stumbles and climbs through treacherous terrain and icy snow. With the spring settling in now, this author would not like to be where this is shot, but you can not deny the utter beauty of the contradiction between the passionate and dark lyrics to the cold but beautiful imagery. If you need a good song to shout lyrics in your car, this is definitely the song for you, and I recommend NF in general because his music really speaks about many tough issues that are highly prevalent in modern society. 
"Hold On" by Justin Bieber
Now this song stunned me to be honest. For someone who normally doesn't enjoy Justin Bieber, this song and video was a real stop and pause. Starting off with blinking lights in the background, and the roaring of a motorcycle, it starts off making you question what is going on, so I headed straight to the video to see what imagery paired with these intriguing sounds. The song speaks abundantly about someone who is losing their hold on another, and Bieber is begging them to stay. When looking through the video, it plays through the heartfelt loss and pain of losing someone to cancer, and what anyone will go through to make sure a loved one is in good hands. The song  already hit 23 million views, and there is no way to not understand why. This song is top tier, and you can see that many others agree. 
Leave a Comment
About the Writer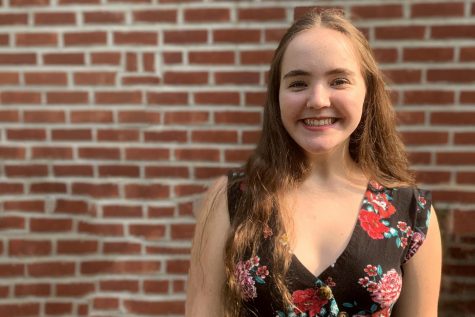 Angelina Mapes, Staff Writer
Sophomore Angelina Mapes, known to her friends as Lina, is entering her first year on The Red Ledger staff. She began writing during seventh grade. She...