Review: Madison Beer's 'Life Support' is a pleasant surprise
Famous social media influencer Madison Beer recently released her new album "Life Support." The new project consists of 17 songs clocking in at 46 minutes and 30 seconds.
The first song on the album is called "Good In Goodbye." This song's slow start gives off the feeling of calm while listening to it, but gradually, the electric guitar's cords start progressing higher and higher. Toward the end of the track, the mood changes and it makes you feel as excited as if you just finished an amazing movie or are on the beach on a nice summer night. 
Next up on the album is "Follow The White Rabbit." This song was an unexpected banger because the name made it seem as if it would be slow and be filled with sorrow. The beginning of the song started very slow. It feels like you are listening to a sleep playlist,  but out of nowhere the beat drops, and the song grows to be way more upbeat. As you hear Beer's vocals, you begin to swing your head back and forth and rock out to the song. 
One thing that I noticed listening to "Life Support," is that the production is top notch. This is apparent because of all the editing done to her vocals, as well as the splicing. This is especially apparent in the next song "Stay Numb And Carry On." When listening to this track, expect an eccentric and melodic beat that contains very soothing vocals that feel pure. The overall setting for this song seems as if it should be saved for a rainy day if you need a pick me up.
Throughout the album, you can start to notice a similar theme in each song– passion.  Beer's passion throughout this album is noticeable if you listen to the words, and how she says them. Her emphasis really is the deciding factor that makes this album special. The next song on the album is "Selfish," and it is quite apparent that Beer is singing about or to someone. "Selfish" is definitely a more personable song than the others on the album because she complains about someone running away from her and their problems, whilst they just leave her behind.
"Life Support" by Madison Beer was a pleasant surprise that included all different types of music including Indie, EDM, Pop and some Pop-Rock. Beer's emphasis on her vocals and lyrics was shown on songs throughout the album such as "Effortlessly," "Stay Numb And Carry On" and "Emotional Bruises." Due to "Life Support" having such a variety of music it appeals to all different kinds of listeners. It's likely that everyone could find a song that appeals to them.
Rating: B+
Leave a Comment
About the Contributors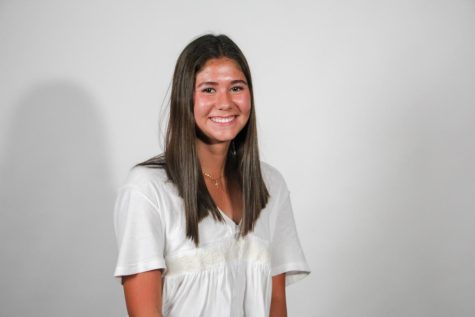 Ryann Daugherty, Graphics Editor
Beginning her fourth and final year on staff, senior Ryann Daugherty is excited about being Graphics Co-Editor. When she's not in the newsroom, Daugherty...