Leopard Look: Sydney Legg
Sophomore Sydney Legg is a member of FCA, student council and LARK. Recently, she was awarded a certificate after being asked to say the Pledge of Allegiance to open up the board meeting.
At A Glance: 
Favorite movie: "I Still Believe"
Favorite song: "Found" by Chris Renzema
Favorite restaurant: Zoe's Kitchen or Freebirds
Looking Deeper: 
The Red Ledger: Why did you join these activities, and what has made you continue to enjoy them?
Sydney Legg: I joined STUCO because I thought it would be so fun, and a good way to help around the school. I joined FCA at the middle school and absolutely loved it. So, when I got to high school, I knew I wanted to participate and apply to be a leader because it was a great opportunity to further my faith and spread the gospel. I joined LARK last year and just loved being able to bring kindness to others around the school, so I decided to help as an officer.
TRL: What are the best parts of being a part of the student council and FCA?
SL: The best parts of FCA are small groups and Wednesday morning devotionals with the leaders. The best part of STUCO is just getting to learn more about what goes into a lot of events at our school. I think homecoming court is probably my favorite though.
TRL: What are you most passionate about? Why?
SL: I am most passionate about my faith and growing my relationship with the Lord because I think the more I learn and grow the better of a person I become. I am passionate about my faith because the more I learn about the Lord the more I understand why he does things in my life, and how he needs me to be used to further his kingdom.
TRL: What is your favorite thing to do in your free time?
SL: I like to hangout with friends, and bring gifts to my friends.
TRL: What are your goals for the future?
SL: In the future I want to graduate high school and college and possibly nursing school, but I don't know for sure what I want to do yet. I want to have a family and go on a few mission trips.
TRL:  Do you hold any leadership positions? If so, how have they impacted you?
SL: I am an FCA leader, an officer for LARK, and I work with the superintendent on a board of students. I think they have just taught me how to respect and serve others better. They make me strive for my best effort and help me grow in character.
TRL: What 3 words best describe the community that you have found in your clubs and activities? Why?
SL: I would say authenticity, dependability and positivity. I think that the people I surround myself with are very kind and loving to everyone around them and always keep things positive. I also think the community I have is very dependable because I know I always have someone to reach out to if I need anything. I think my community is very authentic and genuine.
Leave a Comment
About the Writer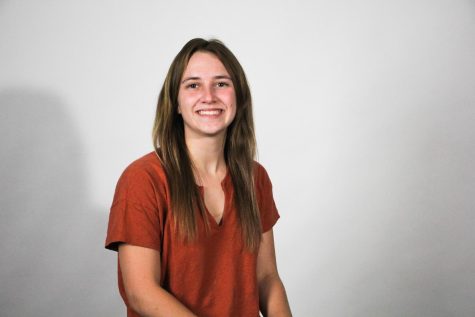 Audrey McCaffity, Section Editor
Beginning her fourth and final year on staff, Audrey McCaffity is more than excited to take on the role of Community Editor. The past four years have been...