Leopard Look: Jacklyn Simone
Majestics director and dance teacher, Jacklyn Simone, joined the district last year. She loves teaching and was recently awarded the "Heart of the Teacher" award.  
At A Glance
Favorite fast food: Taco Bell
Favorite movie: "How to Lose a Guy in 10 Days"
Favorite song: "Paradise" by Dermont Kennedy
Favorite animal: Giraffe
Looking Deeper 
The Red Ledger: What schools did you teach at before coming to the district?
Jacklyn Simone: I started my teaching career at Richardson High School, where I was the assistant drill team director and directed the co-ed country/western dance team for one year.  I then moved to Berkner High School, where I was the drill team director and head of the dance department for three years.
TRL: Were you on the dance team in college or high school?
JS: I went to Naaman Forest High School in Garland, Texas, where I was a Lieutenant on the Starlettes jv Drill Team my freshman year and a member of the Sterling Stars Varsity Drill Team my sophomore through senior year. I served as a junior lieutenant my junior year and captain my senior year.  I then went on to become a member of the 70th line of the Kilgore College Rangerettes. After completing my two years as a Rangerette, I transfered to the University of North Texas, where I was a North Texas Dancer. 
TRL: What is your favorite part about your job?
JS: I love that Majestics and being a part of a team teaches you so much more than just dance. It really is a family.  I believe this to be true in my dance classes as well. I always look forward to the interactions dance allows me to have with students and watching them grow as strong, confident young women in my program. The best part for me is hearing about all the incredible things they are doing after they leave high school, and how their time in dance has impacted the way they move through the world.
TRL: Did you always want to teach dance?
JS: Yes. I fell in love with dance and drill team at a very young age. My mom and aunt were Rangerettes, and my aunt is a drill team director. I grew up in the "dance world" surrounded by some of the most incredible teachers and mentors in the industry, including our own Dr. Mathy. Being a part of my high school and college dance teams only solidified my deep desire to be able to give back to my dance students, what so many had poured into me over the years. I find so much joy in sharing my passion for dance with my students and seeing that passion ignite in them throughout their time in the dance department.
TRL: What are you most looking forward to in your future at the high school?
JS: I am excited to see growth in both the program and myself professionally. It is an exciting challenge to be over a program with such a strong foundation, but still fairly young. The possibilities for growth are endless, and so many are already bought in. I hope to get to know more and more of our community members and continue building a legacy within the dance department that we can all be really proud of.
TRL: What are some of your aspirations for the Majestics and your dance teams?
JS: I am so excited to see the  Majestics, and the dance department grow. It is my belief that dance is for everyone, and I hope to see more and more students becoming a part of the legacy we are building.
Leave a Comment
About the Writer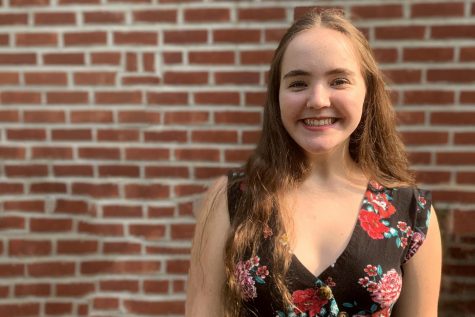 Angelina Mapes, Staff Writer
Sophomore Angelina Mapes, known to her friends as Lina, is entering her first year on The Red Ledger staff. She began writing during seventh grade. She...