Monthly melodies: October
This month's picks include music from AC/DC, Trey Songz and 21 Savage
"Shot in The Dark"- AC/DC 
The band AC/DC is a household name no matter if you listen to rock music or not. If you have ever played or visited a football game, I guarantee you've heard one of their many famous songs including; "Thunderstruck," "T.N.T,""Highway to Hell," "Hell's Bells,""Back in Black" and many others. AC/DC, after a six year hiatus, has returned with their new single "Shot in The Dark," which was released this October. So if you ever need a song to work out too, or just enjoy rock music listen to "Shot in The Dark." The song brings back reminiscent memories of the AC/DC of the past. The song starts off with the electric guitar and the drums bring back old days of being on the football field. The new song is not only energetic, but is just overall fun to listen to.
Rating: B-
"Back Home"- Trey Songz
On Oct. 9, R&B artist Trey Songz released his eighth studio album called "Back Home." Listening to this album takes you back to the old days of Usher, NE-YO, and Akon in the early 2000s. "Back Home" includes 22 songs, and all are worth listening too, but one song sets apart from the others. The title track "Back Home" (feat. Summer Walker) describes the album in a way words cannot. "Back Home" is a great title for an album that brings an artist back to their roots, and this album does exactly that. On that note, this album just makes you want to close your eyes and bop your head the whole way through.
Rating: B+
"SAVAGE MODE II"- 21 Savage
In 2016, rapper 21 Savage released the album "Savage Mode," a very upbeat, repetitive album that just makes you want to do something dangerous or break the law. 21 Savage fans have been waiting for another similar album, and the time has finally come. This October, 21 Savage released his latest project which comes chalk-full of the same vibes as the first "Savage Mode" produced. Every song on this album screams good ol' 21 Savage with the dark melodic bars, the deep tone and the hyper-active choruses. The song in which this is the most apparent is "Runnin." This song is not for the faint of heart but if you want to do something mischievous throw this song on. Overall, it's a dangerous album. Correction: a dangerously good album.
Rating: A-
Leave a Comment
About the Writer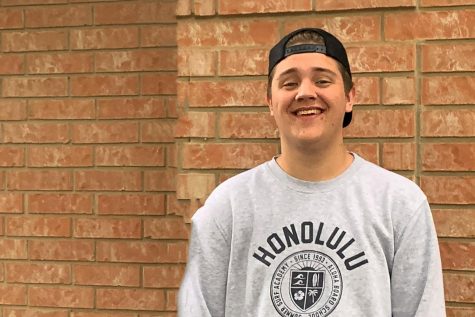 James Mapes, Staff Writer
Senior James Mapes is re-joining The Red Ledger for his second year as a staff writer. When James is not writing, he is hanging out with his friends, driving...