Review: Joji's 'Nectar' provides abstract, fulfilling songs
Artist Joji has recently released his new project called "Nectar" in 2020. The album consists of 18 songs summing up a total of 58 minute listening time.
The album starts off strong with the song, "Ew." The song goes through plenty of mood swings in its four minute run time. It starts off with a slow piano and Joji's soft vocals, but around the halfway mark, the song speeds up and has a completely unique vibe. Not to mention, the beautiful high notes throughout the song that make it perfect for driving at night with the windows down.
On a different note, the song, "Gimme Love," is very repetitive, and you can't help but smile when you hear it; but if you're one who listens deeply to the lyrics in a song, you will have a different interpretation of this song. Joji repeatedly says, "to gimme love when I'm gone," implying that he won't be staying much longer. This song is definitely the most unique on the album. The way he can turn such sad lyrics into a song that brings joy is a unique attribute that very few artists have.
Joji's music is definitely considered abstract to most other artists, and this album displays that in full. Similar to "Gimme Love," the song, "Run," is very unique as well. If you listen carefully to the song, you will hear all different kinds of instruments ranging from the electric guitar, bass, drums, etc. Music listeners who love to hear the electric guitar will be flabbergasted by the melody the guitarist plays.
Joji also takes a different approach on the song "Pretty Boy," which features popular rapper Lil Yachty. This song will catch you off guard with its main chorus, not to mention if you own a nice pair of speakers, the bass will blow your socks off.
"Nectar" has a wide variety of different genres of music, and love songs are no exception. 
The songs "Your Man" and "Sanctuary" are songs that really make one's heart warm. The choruses of both of these songs are on the slow side, but when you're done listening to them, you feel nothing but eagerness to love and be loved. 
If you are ever feeling anxious, go and listen to "Mr. Hollywood" off of this album. The pouring rain in the background throughout the song is nothing but calming, and in turn, adds a lot to the song. This song makes you feel at ease and brings a clear train of thought when you're done listening. 
The most abstract song on the album would have to be "Reanimator" featuring Yves Tumor. This is because in the first minute an eary, boneshaking instrumental is being played that makes you feel disturbed, and then the beat changes to a repetitive drum instrumental.
Overall, "Nectar" by Joji has music specifically for those late night drives with your friends on the weekends. Next time you are on aux, don't shy away from playing songs on this album, and surprising your friends and family.
Leave a Comment
About the Contributor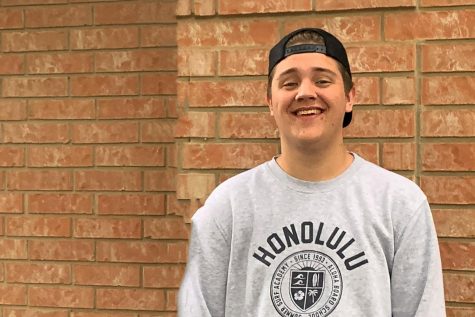 James Mapes, Staff Writer
Senior James Mapes is re-joining The Red Ledger for his second year as a staff writer. When James is not writing, he is hanging out with his friends, driving...