Review: Super Bowl LIV ads
For 30 seconds of airtime, companies spend upwards of $5 million to advertise their products to the public during the Super Bowl. Companies hope to create memorable and successful ads, but the results of their spending varies widely. Here are the top five commercials of Super Bowl LIV.
Hyundai Sonata: The top commercials this year were all simple compared to others. In first is the Hyundai Sonata commercial.The Hyundai Sonata commercial with John Krasinski and Chris Evans while relatively straightforward provided an interesting twist on year round car commercials. The celebrity cameo and strong Boston accents really made it pop amongst the others. 
Planters Peanuts: Coming in second is the Planters Mr. Peanut commercial. Planters took advantage of social media when they had announced that Mr. Peanut had died. While most people were confused by this at the moment, it was the perfect setup to their simplistic advertisement in which Mr. Peanut was reborn at his funeral. This was not only creative, but also wasn't overdone making it ideal for the Super Bowl.
University of Wisconsin Medical: Number three is the University of Wisconsin's medical school commercial for one big reason; after the University of Wisconsin's Medical school cured a dog of cancer, the dog's owner was so thankful that he personally paid for their ad. This made the commercial more impactful than others and gave the viewer more motivation to fund the program.
Genesis: The Genesis commercial with Chrissy Teigen and John Legend ranks number four on the list of top commercials this year. Using the witty humor that Chrissy and John are known for, it successfully fulfilled its purpose to introduce viewers to the new classy car.
Google: The fifth and final commercial that earned a spot in the top five is the Google Loreta commercial. This commercial, though mostly filled with pictures and voice overs, brought a tear to many eyes, and it truly made the viewer feel that investing in a Google Home would allow them to preserve memories forever.
Every year there is at least one commercial that has seemingly been done a million times. This year was no exception. Commercials like the Tide Pod Stain ad were too long and had been done plenty of times before. It's just not persuasive or interesting any more. Overall, there was a more diverse selection of ads throughout the Super Bowl this year, but in the future, companies should remember less is more. 
Overall Rating: B+
Leave a Comment
About the Contributor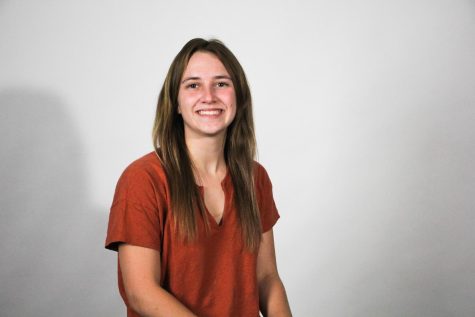 Audrey McCaffity, Section Editor
Beginning her fourth and final year on staff, Audrey McCaffity is more than excited to take on the role of Community Editor. The past four years have been...