Review: 'Terminator: Dark Fate' lets down high expectations
In the spirit of recent Hollywood creations, most notably the Halloween franchise, Terminator: Dark Fate is another sequel that ignores the events of the previous movies, resulting in a direct sequel to Terminator 2.
The plot follows another important figure to a new future, who is protected by a human and the Linda Hamilton / Arnold Schwarzenegger team c. 1985. There's a bit of a contrived emotional plot, but all told that means little for the plot.
Back in 1985, Terminator presented some new ideas. The very thought that humans could create a program that could revolt against them was fairly new; computers were barely hitting the mainstream and the things that they could do were limited. The bleak future idea contrasted with the hopeful futurism popular at the time through franchises like Star Trek, whose fourth movie had just been released the year before. 
Unfortunately, some franchises do the job of pigeon-holing themselves into a plotline that doesn't have much wiggle room. Star Wars needed a big thing to blow up to get closure, Rambo needs a David v. Goliath concept in there, and Rocky needs a down and out boxer to make a surprise victory. Terminator is similar in that the plot remains constant — there's a time traveling human & robot sent back to protect an important future figure from a future robot. Terminator 2 made a neat twist, making Arnold the protagonist, but Dark Fate's attempt at making this twist falls a bit short.
As a result, the plot feels a bit stale. The actors clearly know it too. The Terminator role is perfect for Arnold, as he doesn't need to show too much emotion, but others like Hamilton are clearly phoning it in. Our new characters, protector Grace (Mackenzie Davis) and protectee Dani (Natalia Reyes) come across as forced and schlocky.
Action in this film is loud and over the top. One will remember that the climax of the original film was a truck getting set on fire. This film runs circles around that in terms of size and scale, but the scenes are all too impractical. Action needs to feel grounded to be immersive and allow the audience to feel the fear or exhilaration a character feels in that moment. Without that crucial connection, the action truly is inconsequential, which is perhaps why personally the emotional parts of the movie fell flat for me. Action is also best used if it builds through the film. This movie goes all out from the get go, essentially putting the worst behind our characters directly at the start. This makes the rest of the sequences seem a lot less impactful.
I had little connection to the new characters. You feel for Sarah Conner in the original film because her situation is plausible, she shows fear, and experiences terrors we think about happening to us. None of this really happens in the new film, and what does happen has already been seen by the viewer if they've seen the last film.
All told, as a simple action film, it's okay. It's a popcorn muncher for a slow weekend, but nothing more. It helps if you go in with low expectations.
Rating: C
Leave a Comment
About the Contributor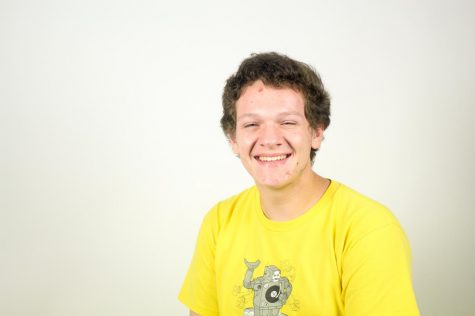 Justin Maroney, Staff Writer
They say you can't teach an old dog new tricks, but senior Justin Maroney is certainly going to try during his first year on staff. Most at home in a...