Review: "The Ballad of Buster Scruggs" offers classic entertainment
Anyone familiar with the Coen Brothers (Joel and Ethan) knows that their work has been defined by the way they spin classic storytelling techniques, as well as for their black sense of humor, both of which are especially prevalent in "The Big Lebowski," "No Country for Old Men" and "True Grit." In this Netflix Original film, they return to the open prairies of the American Old West to give us yet another thought-provoking classic, "The Ballad of Buster Scruggs."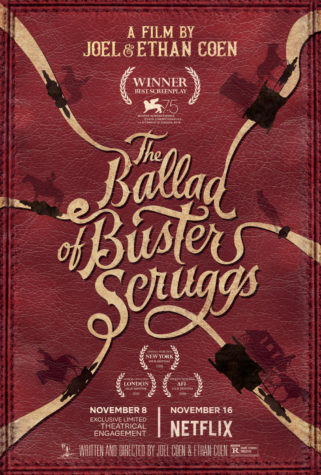 The film consists of six completely separate shorts, united in a book that's pages are turned by an unknown hand. The title segment, "The Ballad of Buster Scruggs," chronicles the travels of the cheerful title character, Buster Scruggs, played by Tim Blake Nelson, who previously worked with the Coens in "O Brother, Where Art Thou?" Hilarity, gunfights and a trio of catchy songs all make a prominent appearance in what is easily the best segment. "Near Algodones" presents, in dark comedic fashion, a bank robber's (James Franco) prolonged journey to the gallows. In "Meal Ticket," an aged impresario (Liam Neeson) runs a traveling show featuring an actor without arms or legs (Harry Melling) reciting famous literature. "All Gold Canyon" gives us a gorgeous look at the scenic west accompanying an elderly prospector's (Tom Waits) search for gold. "The Gal Who Got Rattled" follows a young woman (Zoe Kazan) on a tragic journey West with a wagon train. Finally, in "The Mortal Remains" five strangers share conversation as they travel by stagecoach to Fort Morgan.
What's special about all of these stories is that they all surprise you with their execution and surprise you again with how they end. Even if you saw the end result coming, you'll still be shocked by how the ending comes about. Of the six, two stand out in particular: "Buster Scruggs" and "Meal Ticket," the former for its sheer hilarity and the latter for its thought-provoking story and downright depressing mood.
Nelson plays Scruggs as a cheerful and melodious outlaw with the quickest draw in the West, as well as a tendency to break the fourth wall. The story is defined by its comic absurdity. For example, during Buster's introduction where he rides through Monument Valley strumming a guitar and belting a tune, one of the shots is from the inside of the guitar. Nelson's good-natured, unflappable performance combines perfectly with the segment's unique action slapstick; the Coens actually found a new way to kill someone in a Western.
But the equal of "Buster Scruggs" is ironically its antithesis, "Meal Ticket." Whereas "Scruggs" is talkative and lighthearted, "Meal Ticket" takes a far more quiet, melancholic, subtle approach to its storytelling.
In fact, it is performed in almost complete silence save for Melling's recitations. Because Melling has no limbs, Neeson drives/lugs him around, feeds him, changes him, helps him relieve himself, etc. But despite spending every second of every day with one another, they are silent as strangers, not conversing once during the story. It's easy to feel deep sympathy for Melling's character, especially with the genuine sense of yearning in voice when he's onstage. And as time drags on and the crowds start to dwindle, it's hard to not feel sympathy for Neeson's character, as his success starts to fade and his daily routine becomes indistinguishable from what he did the day before and what he'll do the day after.
Whether or not you yourself will enjoy this film can be deciphered by an important plot device in "Meal Ticket," when Neeson decides to add a new act to his repertoire–he purchases a chicken that can do math. The art and passion of Melling's recitations are swept under the rug in favor of a cheap trick. It can–and should–be argued that this is a perfect allegory for entertainment today, as small-budget, thought-provoking films become ditched in favor of big-budget blockbusters.
This film was a Netflix Original for a very particular reason: Co-director Joel Coen noted in an interview with the LA Times that Netflix executives were "the people who are stepping up and spending money on movies that aren't Marvel comic movies or big action franchise movies and that type of thing, which is pretty much the business of the studios now." His brother Ethan said that the script was never even brought to a movie studio because they knew it would not be financed.
So if you feel like watching a movie where you can laugh and have some fun, watch the opening scene and turn it off when the dust settles on the title character's tale. But if you feel like walking away from a film with the gears in your head turning, then watch this wonderful Western all the way through. And at the end of the day, when the roundup ends and the campfire dims, the Coens have given us one more classic Western to enjoy throughout.
Rating: A-
Leave a Comment
About the Contributor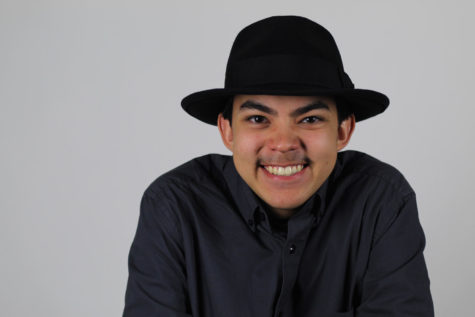 Austin Keefer, Staff Writer
Running on all caffeine and no sleep, Austin Keefer is 17 years young and in his senior year of high school, as well as his third year on The Red Ledger...