Boys basketball to continue battle for playoff spot
Team looks to avenge a 60-46 loss to Poteet earlier in the season.
The boys basketball team (9-15, 4-6 in district) will travel to face Mesquite Poteet (10-17, 4-6) tonight at 7 p.m. as they look to slide into the fourth seed in the standings to punch a ticket to the playoffs.
"We know right now that each game is critical," head coach Kyle Herrema said. "[The game against Poteet] is a massive game for us. Almost everything is a must-win at this point in time. We know what's on the line. We just have to step up."
Senior Jace Berryman said he is confident in how his team has prepared for this highly anticipated match up.
"This time around, we've been preparing a lot better in order to iron out the flaws of the first game [versus Poteet]," Berryman said. "There's a lot of targets that if we hit [them], then we'll come out with the W."
Coming off a somewhat unexpected loss to Wylie East last Friday, the team bounced back with a double overtime win over North Forney (6-17, 2-8) on Tuesday night.
"We did a good job of scoring in overtime," Herrema said. "The difference [between the first overtime and the second] is that in the second overtime, we hit our free throws. We had a scoring burst from [junior] Kyle [Olson], who hit four when he came into the game, and [junior] Luke Ledebur hit some big buckets, as well."
The team scored a combined 23 points in overtime, including a dunk by Olson, who made his season debut after tearing his ACL in the preseason.
"We thought he would have a chance to come back at this point in time, but really it was up to Kyle on how he felt," Herrema said. "He's been feeling really good, and I know he wants to help the team, so we felt like last night was the right time for him to come back."
With only having played in a couple scrimmages in practice, the focus is on building back his stamina so he can be ready for the postseason.
"It feels really good [to be back], and I hope I can make an impact on our possible success with making the playoffs," Olson said.
Unfortunately, as the team got one player back, it lost another when freshman Carson Holden suffered an ankle injury in the first quarter Tuesday night.
"Hopefully it's nothing too serious, but we just have to wait and see what the results are," Herrema said. "[Worst case scenario,] we've got lots of guys who can step up and fill that role. That's a good thing about our team. We're not one-dimensional in what we can do."
Nevertheless, the clock is ticking with only four district games left before playoffs roll around. It is crucial for the Leopards to win these next couple of games in order to secure a spot in the playoffs, which has been their goal all season long.
"We can push through together to acquire these wins," Berryman said. "It's a team effort."
Leave a Comment
About the Writer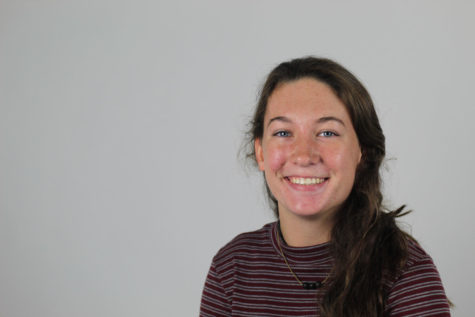 Alexis Russell, Staff Writer
Alexis Russell is a senior this year, and it is her second year on staff. She mostly writes about sports, including volleyball, basketball, and baseball....