Drawn closer by distance
Junior fulfills lifelong dream by running half marathon with father
Junior Evie McGowan slipped and weaved between runners from all walks of life at the BMW Dallas Half Marathon. Her father, Barry McGowan, was right on her heels.
The massive crowd slowed Evie a little in the first mile, but she found the large pack of pounding feet exhilarating and eventually burst into more open space.
Some runners around Evie munched on doughnuts or downed beer they'd grabbed from tables along the course. Others stuck to the more traditional water and Gatorade. Standing alongside some of the tables was a man with little more on him than a guitar and boots. Throughout the race, crowds waved signs with humorous phrases, including "high five for a power-up" and "just don't suck," as Evie ran by.
After all her training, starting immediately after the cross country regional meet on Oct. 23, Evie was finally there. After her dream of participating in the race at the end of her sophomore cross country season was shattered due to complications with her nutrition, she finally found herself among the throng of runners. Most of all, after dreaming about it since she was young, she finally ran a half marathon with her father.
"[The BMW Dallas Marathon] was actually my dad's first marathon, and so ever since I was little we always talked about doing marathons together, and that's still our plan," Evie said. "So for us a good place to start would be the half marathon, and Dallas being my dad's first race, I [thought] it would be cool for it to be mine."
Running, as well as faith, bind Evie and her father's hearts together, making the Dec. 10 half marathon all the more special. Evie said she hopes they will "be able to run around the world together"– a goal Barry had when he first met Evie's mother– starting with their first official marathon next year if all bodes well.
"It's the bonding and just the joy of seeing my 16-year-old just whup me. It kind of frustrates me because I still want to beat her, but that brings a lot of joy, just seeing her enjoyment of running," Barry said. "Getting lost in a run on a sunny day with a bunch of people having fun is a pretty special experience and seeing your daughter do that, and at such a young age doing it well before you ever could've done it or dreamed of doing it, [is amazing]."
Barry became hooked on marathons after setting up a program at his previous job to aid people in setting and achieving their goals, which included completing the 26.2 mile run.
"When we first did it, we had like 30 people show up in our company to do it. By the end of it, we had seven people finish the marathon," Barry said. "So it was really neat, and each year that program grew to where more people would show up, more people would finish the marathon. That's how I started. I've run in high school, but when you're out of school, doing a fun run is fun, but then setting bigger goals–it's just very enjoyable."
Prior to the half marathon, Evie said her father hadn't "run in months, but is kind of crazy like that." He also helped Evie in her training by advising her to increase her long runs on Saturday mornings, which were about 10 miles at the time, by one mile every two weeks. These long runs were essential to Evie's training, and she had to invent mental tactics and turn to her cross country teammates, whom she said provided her with "incomparable" support, to keep from plunging into boredom.
"As far as going that long, I just chop it up in my head," Evie said. "Once I get to four, I know I only have 10 miles left, and that's two five-mile increments, so stuff like that that just kind of helps break up the 14 or 13 or 15 [miles]."
The challenges of high mileage training thickened Evie's skin, and whenever she hit a low point, her father was there to guide her.
"When I got to [a] point where I felt like absolutely no one else believed in me, my dad always did," Evie said. "I've learned a lot of perseverance and gained a lot of confidence through training. I know that being able to run this race will serve me really well during track season."
Perseverance proved crucial in the last 800 meters of the half marathon. Up until that moment, Evie had felt strong and hadn't "needed to pull back." In fact, the race had gone by quite quickly, as she'd glanced down at her watch at one point and was surprised to see she'd already reached the sixth mile.
But now her legs felt like bricks.
With the finish line in sight, Evie brought her "body together to just finish it out." She couldn't slow down– didn't want to slow down.
The numbers on the race's large timer and her watch ticked on.
When she began training, she wanted to go under two hours and 15 minutes. After a 14 mile Saturday long run at two hours and six minutes, however, she changed her goal to under two hours.
Her feet glided across the finish.
She completed the half marathon in one hour, 43 minutes, and 32 seconds–17 minutes faster than her two hour goal.
Eventually, Barry crossed the finish line as Evie watched from the sidelines. It took her a while to find him in the crowd, but when she did, she wrapped her arms around him in a hug.
"We did it," Evie said.
"One down, more to go," Barry said.
About the Contributor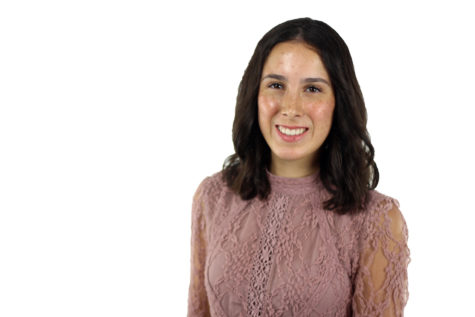 Hannah Ortega, TRL Editor-in-Chief
Senior Hannah Ortega's love for journalism has blossomed from a curious seed, which was planted when she joined the class in the seventh grade, into...