Nia in Nepal
Freshman furthers world travels on three week trip through the Himalayas
Hang on for a minute...we're trying to find some more stories you might like.
Adding more stamps to their full passports, a trip that "has always been on her parents' minds" brought freshman Nia Marwaha and her family to the snow engulfed Himalayas for six-mile daily hikes and life at base camp for three weeks.
The Marwaha family, consisting of Nia, her parents, and her 10-year-old brother, departed from the Metroplex on Nov. 3 to embark on another adventure overseas after various travels over the course of six years.
"We started traveling in 2011, I think, and we have been to Chile and Argentina, Iceland, Morocco, New Zealand, India of course, and Europe– we went to northern Italy and then southern France just over the summer," Marwaha said.
After arriving in Nepal, the Marwahas hiked up to the Mt. Everest base camp and then took a circular trek back down the mountains.
"The hike took up a majority of the trip because it's a pretty tough hike, like maybe six or seven miles a day, and it's high altitude and everything," Marwaha said.
Their days started early in the morning with breakfast followed by a whole day of hiking. In the evening, they would reach the homestays for rest along their hike.
"Most of them are the same. They all have the same menu and just give you beds, and everything costs money there because they have to ship everything by helicopter or by yak," Marwaha said. "The shower costs $4 if you want to do that. Charging your phone– full charge is $5, just for an hour it's $3. Just every small little thing [costs money]. Like if you ask for honey to put in your tea, than that costs an extra $2. Nepal isn't a very expensive trip, but all of those small little things, you kind of have to live really simple because you don't want all of them to add up along the way."
Due to base camp being overly "hyped up," her favorite memory was from a different spot along the trek.
"The day before [we hiked to Everest base camp], we went to this viewpoint called Kala Patthar, so it's a pretty hard climb," Marwaha said. "It's 490 meters straight up, which I think is around 1,200 feet or something. When you go up there, it's like a panoramic view of all of the mountains, and we went up there during the sunset, so it was really pretty to see."
Marwaha said her travels provide a humbling and learning experience.
"I certainly feel a lot more grateful about things that I get to go to and do," Marwaha said. "Not a lot of people can say that they have been up to Mt. Everest, so I'm really glad that I got to go up there, and that I was physically able to hike all of that way. It also opens up new opportunities for me because now I can know where I can hike to, so now climbing up to the top of Mt. Everest is certainly a possibility which I could do if I really wanted to later on after college or something."
Marwaha also believes her travels will aid her in her future career.
"I was thinking about becoming a diplomat," Marwaha said. "They represent the government in different places around the world. So, I would represent the American Government for France, then I would be able to live in the French countryside or do what I want. I definitely think [traveling at my age would help in my career] because that entire thing is like you have to know about different cultures and different countries' governments and how they live, so I definitely think that would help in the future."
Since the monsoon seasons provide a small window of opportunity for hiking in the Himalayas, the Marwahas' excursion in the middle of the semester left the freshman with time and work to make up.
"I'm kind of used to having a lot of homework because of the aforementioned trips that we have had, but this time it's a lot more because it's not really the homework– it's just the time that I have to make up in order to get the credit for the semester," Marwaha said. "I have to make up 15-16 hours, which is kind of stressful. Coming back hasn't really been that hard, it's now just dealing with making up time."
Her friends recognize the once in a lifetime opportunities that her travels bring as well as the hours required to catch up.
"I'm happy because she gets to experience all these foreign places that normally people wouldn't experience when they are this age, but I'm also a little concerned because a lot of these trips are very often, so she does miss quite a bit of school, but then again, who gets to go to Nepal?" freshman Grayson Mousavijam said. "Who gets that opportunity handed to them? So overall, I think it's a pretty cool experience."
To meet mandatory school attendance, the family will take less vacations during this school year than previous years. Their next adventure will take them to Rajasthan, India on Dec. 14 to sightsee and be immersed in the history of the area.
For more pictures and information on Nia's travels, Instagram users can find her @nia.travel.
About the Writer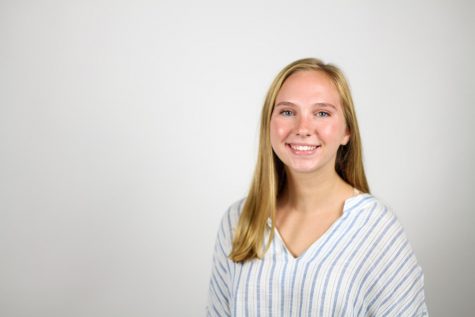 Madeline Sanders, Editor-In-Chief
On her fourth and final year as a member of The Red Ledger, senior Madeline Sanders is thrilled to have her second go-around as Editor-In-Chief with the...