Leopard Look: Homa Lewis
AP Human Geography and AP European History teacher Homa Lewis describes herself as "funny, responsible, and introverted."
At a Glance:
Least favorite Word in the English Language: Suck
Chick-Fil-A or Raising Cane's: Raising Cane's
Favorite Christmas song: Christmas in Killarney
Favorite classic movie: "The Great Escape"
Most unsettling insect: Millipede
Hershey's or Almond Joys: Almond Joys
Human Geography or European History: Tie
Looking Deeper:
The Red Ledger: How long have you taught at the high school and how did you end up here?
Homa Lewis: I'm starting my sixth year [at the high school]. Beth Smith, the social studies coordinator, and I worked in Plano, and when an opening came up, she asked me if I was interested. I taught at Plano for 19 years, then I was off teaching for about 10. I worked as a legal assistant and went to law school at SMU.
TRL: What educational schooling and training do you have?
HL: I have my undergraduate's degree in secondary education from Texas Tech. I went to UTD for a while, so I have a few hours for humanities. Then I have a law degree from SMU.
TRL: Have you taught the same subject for your whole career as a teacher?
HL: I've always been social studies, but in Plano I taught Humanities, which is for 9th-10th grade Gifted and Talented students. I've taught AP World History, On-Level History, US History, APUSH, and PreAP World Geography.
TRL: Why do you enjoy teaching Human Geography and European History?
HL: I like HUGAP because there are so many different things that we cover, and I like to have a broad interest so I can jump around, and I do like working with freshmen. European History has always been an interest of mine. I love the royal families. I love the wars. It just worked out.
TRL: Where did you grow up, and how does that affect your life?
HL: We moved around a lot; small towns. We went overseas for a few years, and then we ended up in Midland Texas the summer before my senior year. I think it makes me aware of people who move into schools, especially high school after the year started. Living overseas gave me a sense that people lived different lives in different places in the world, so it made me appreciate what we have here.
TRL: Where have you traveled?
HL: Not too many places overseas. I've been to the Caribbean and Mexico. We lived in Venezuela. I've traveled to quite a few states in the United States. It's just kind of nice to see places you've read about. Different foods, different things to do.
TRL: Do you have any children or grandchildren?
HL: I have three grown kids and five grandkids.
TRL: Are there any school activities you teach or supervise over?
HL: I do mock trial. It's great. The kids are really good. They pretty much run it by themselves, and they're really dedicated. My job is to arrange scrimmages and arrange transportation.
TRL: Do you have a personal teaching mantra?
HL: No invisible students. I like to know my kids. I had a student who committed suicide a long time ago. I had her the year before and didn't really know her. No invisible students. I want to know all of them.
TRL: Why do you think you're such a well-known teacher at LHS?
HL: I have so many freshmen. I try to be nice, and I try to work with them. I'm not really a warm, fuzzy kind of teacher, but they know I'm going to treat them well. Also, I think they enjoy my sense of humor.
TRL: What kind of effect do you want to have on the students at LHS?
HL: I would like to have them all believe that they can do whatever they want to do in life. There's a lot of different options. I would like them to be confident learners.
Leave a Comment
About the Writer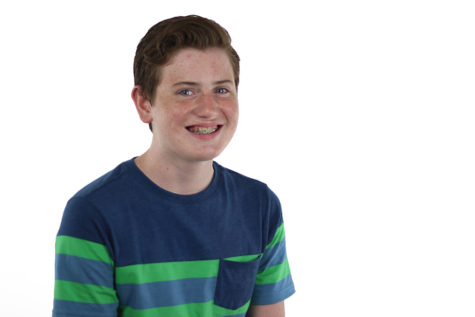 Jack Marsden, TRL Reporter
Freshman, writer, student, journalist. Jack Marsden is new to The Red Ledger staff. He joined the newspaper in seventh grade and loved the program from...