Bella in the beast
Student shares experience of being Leo the Leopard
Her oversized fur head goes on.
Kids surround her, pulling on her tail, showering her with hugs, and constantly asking her who she is under the suit.
Parents ask her to pose for pictures with the kids.
She walks across the field, the playground, and the bleachers.
The suit is bulky on her tall, thin frame. With every step, she can feel her legs getting sore, but she trudges on.
The first quarter ends, and finally she heads into the fieldhouse.
The head comes off.
Sophomore Bella Fortner stands tall in the fieldhouse, her face dripping with sweat.
"I'm putting a smile on everyone's face, and that's important to me," Bella said.
This is Bella's first year as the school mascot. Though it started as a joke, it is now something she plans to continue throughout high school.
"Freshman year, a freshman cheerleader was saying, 'Who wants to be the mascot?' and I jokingly said, 'Me. I'll do it,'" Bella said. "Then all the cheerleaders said I should talk to their coach and actually be the mascot. I said that I [had] nothing else to do next year, so I said, 'Why not?' I went in, I had to go through tryouts, but it was super fun."
"
I think everyone takes high school too seriously, so this is just one of those things where I could just do whatever, and it's funny and everyone smiles."
— Bella Fortner
Bella channels her humour into being the Leopard and uses the role as an outlet to incorporate some fun into her high school career.
"I consider myself pretty humorous and very outgoing, so I think when I'm the Leopard, that definitely does come out," Bella said. "I just have a lot of fun with it. I think everyone takes high school too seriously, so this is just one of those things where I could just do whatever, and it's funny and everyone smiles."
Bella has been able to experience various school activities such as pep rallies and football games through the eyes–or rather the mouth–of Leo the Leopard.
"I think last year as a freshman going into high school, I was gaining experience because you're seeing everything being put on, because you're not involved with everything," Bella said. "But through the Leopard it was cool. The first game I was on the football field, and I had never been on the football field before."
Cheerleading coach Shelly Wiggins said that Bella exceeds her expectations in showing school spirit.
"She is energetic and excited to be the mascot," Wiggins said. "She loves to be around children. At games, she takes off into the stands and greets and plays with the children."
Though an optimistic, upbeat attitude is considered the norm for school mascots, the role doesn't always attract positive attention. Whilst at a volleyball game, Bella overheard students from the opposing school making assumptions about her social life.
"It was just surprising," Bella said. "It didn't affect me, but it would definitely affect other people. I've never been one to let other people's comments affect me. I don't take into consideration what people think. If I'm enjoying myself and having fun, then nothing else matters."
Bella said her mom, Tina Fortner, constantly motivates and encourages her to be the Leopard. Tina even helps design new outfits for Leo to wear at pep rallies and games.
"Anything that she does, I encourage her to do her best," Tina said. "We thought being the Leopard would be really fun, and when she expressed interest in it, I just told her to go for it. I just really try to encourage her in anything she does because you have to have a good attitude, and she always does."
While Bella is in the suit, she can't speak due to her portable water bottle backpack, which has a straw that connects to her mouth, allowing her to drink water while in the suit. She opts for hand motions to interact with people, giving out high fives and hugging kids.
"I try my hardest to use hand motions, and [kids and parents] usually get it," Bella said. "Usually people just want to take a picture. Kids just want to see my costume and tackle me. Usually the kids just want to give high fives. Sometimes kids don't even want to talk to me. They just want to say 'Go Leopards.' I think that since they see me in my suit, they understand it."
The suit is bulky and very warm, adding another 20 degrees to the weather. However, the suit contains a fan, and Bella added her own touch to the cooling mechanism with the portable water bottle backpack.
"
I want to be known as a spirited, fun, and outgoing person. Especially spirited."
— Bella Fortner
"The fan came in [the suit], which was definitely a huge plus," Bella said. "I wear a portable water backpack. I went to a music festival, and I saw everyone wearing them. It was a really smart idea. Everyone could drink water while they were waiting in line. I thought that would look good because the Leopard suit is huge on me, so it fits, too, and it's not that heavy. It's only a couple liters of water."
Bella plans to leave a legacy for other Leopards and the school as a whole.
"I'm the first Leopard, so officially I kind of get to make up everything, and I get to start the tradition," Bella said. "I want to be known as a spirited, fun, and outgoing person. Especially spirited."
Leave a Comment
About the Writer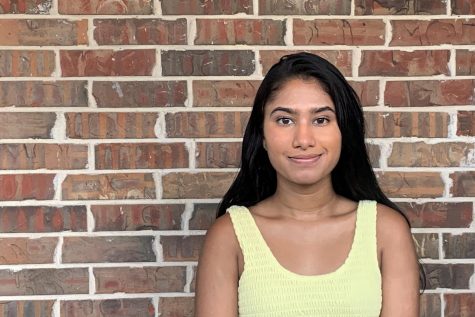 Arushi Gupta, Editor-In-Chief
Transitioning into her fourth and final year on staff, senior Arushi Gupta is thrilled to take on the role of Editor-In-Chief. After spending nearly six...