Noble goodbye
Music teacher retires after 31 years teaching in the district
In 1917, Lovejoy ISD was founded. Over the past 100 years, staff have come and gone. But at this point in time, one teacher is the longest current district employee at 31 years, and she will be retiring after this school year in May.
"Before I taught at Lovejoy I taught in Arlington for five years," said Debbie Noble, music teacher at Hart Elementary. "I graduated from Baylor and then I taught fifth grade in Arlington and then we moved back to Plano, and then I got a job."
Noble was a fifth and sixth grade teacher teaching math at Lovejoy Elementary for several years. She was then moved to Hart to teach music.
"I did not apply here and it was a last minute decision," Noble said. "Mr. Puster called me right before school started because they had an opening. He called one of the Lovejoy parents who was an administrator in Plano and asked if he knew of any applicants. He gave them my name and number and I didn't even know where Lovejoy was. But I drove out here and did an interview and he offered me the job on the spot."
Teaching music wasn't something Noble initially thought as an option.
"I have always had a love for music," Noble said. "In high school I was the choir accompanist. I accompanied solos for band and choir. Then I did church choir. The principal at Hart knew that and said, 'I think you would love teaching music,' and I was unsure at first but I decided to go for it and I loved it. I am so grateful I made that change. I don't have to grade papers like I did in math."
Being the longest-serving employee at Lovejoy can be considered an honor, and it has its perks.
"I have made many many wonderful friends," Noble said. "But overall it has been a great group of people to work with. Some of those I met 30 years ago, and still go out to dinner with, and just great friendships. Sometimes it is sad to watch them leave."
Employees that work with Noble appreciate her and everything she has done.
"You can really appreciate her years of service when you hear Ms. Noble talk about teaching the children of her former students," Hart principal Kathy Foster said. "Ms. Noble has been a part of many LISD families for more than one generation, and is a significant part of our history. I will truly miss the stories she shares that connect our past to our present. We have been so fortunate to have Ms. Noble at Hart"
At one point in her teaching career, Noble taught both of her daughters.
"My girls when to Lovejoy K-6," Noble said. "They came with me from Plano everyday. I had them both for math. When I would be at home grading papers and they missed something, I would call them in the room and make them fix it. But I still counted it wrong, I just had them correct it. I think I so much didn't want to show favoritism I think I went overboard the other way. Like not calling on them."
One of Noble's favorite aspects of teaching includes watching kids as they develop confidence in themselves to try a solo or a speaking part.
"The students impact me a lot," Noble said. "Each year when the students move on, it is sad to see them go and not be involved in their life anymore. I love going to performances at middle school and the high school and watching my former students in choir, band, orchestra, or the plays."
Students note the impact that Noble made on their lives.
"She was so sweet and made her class fun for us," sophomore Olivia Long said. "I think Hart will be missing out on her vibrant personality and what she brought to the music classes the most."
"All of the friends in the community" was one of the best memories that Noble remembers.
"When I was going through some rough times, all the friendships and the wonderful support that everyone embraced me with was amazing," Noble said. "I've also watched that happen to many people on the staff or in the community, the way the community embraces everyone when they are going through rough times."
Over the years of teaching at Hart, certain traditions have been maintained.
"The traditions I have kept over the years is basically the programs," Noble said. "Fourth grade does the Veterans Day, second grade does the play, kindergarten does Thanksgiving, first grade does a Texas program, and third grade does one with instruments. So each year the kids know what they are going to get to do."
In class, the grades usually spend 6-8 weeks preparing. It also includes lots of hours outside of class preparing for Noble.
"Last year when the seniors were here, I had to pass out the recorders and put the music up on the overhead and they still remembered how to play the song we learned," Noble said. "When the seniors come back for their breakfast, it amazes me they can still do all the movements from their programs."
As well as being a music teacher, Noble has taken on many other responsibilities.
"I make the yearbook, the powerpoint presentation for the Hart Beat ceremony, take pictures at all events, on the south side I do the car line and know all the numbers by memory, and then the talent show," Noble said.
Though there are many, each responsibility is taken seriously and is cared for thoroughly.
"I didn't volunteer to do the yearbook," Noble said. "It was kind of handed to me by accident. Somebody doing the yearbook had to have some surgery so I finished it for them and then the next year it was mine. But it is a lot of fun and it's fun taking pictures of all the kids. I make it a point to put every child in the book three times, which is a lot of work, but it is great to see their faces when they open it."
With the Hart Beat weekly assembly as a long time responsibility, Noble has special plans for her very last one.
"I am excited to retire and I know this is the right time and I feel good about that decision, but it is very hard to say goodbye," Noble said. "It will be hard at the end of the year. Our last Hart Beat in May, I am teaching everyone a song beforehand so they can all sing it together. It is called 'May you always have a song.' And I am sure I will cry."
Even after retiring, Noble plans to still teach some piano lessons to her former students, but she hopes to do other things as well.
"After this year I hope to do some traveling, initially doing nothing and not setting an alarm, spending time with my family, going to the Baylor football games, and resting," Noble said.

View Comments (1)
About the Writer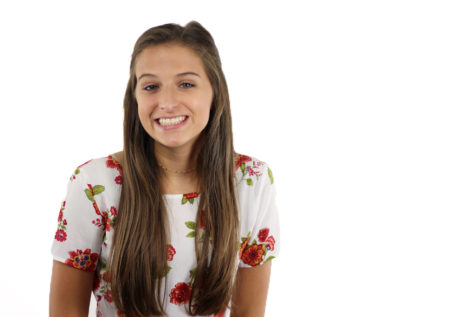 Mary Catherine Wells, TRL Editor-in-Chief
Mary Catherine Wells, a now senior at Lovejoy High School, proudly takes on the role of Editor-in-Chief at her online school newspaper, The Red Ledger....