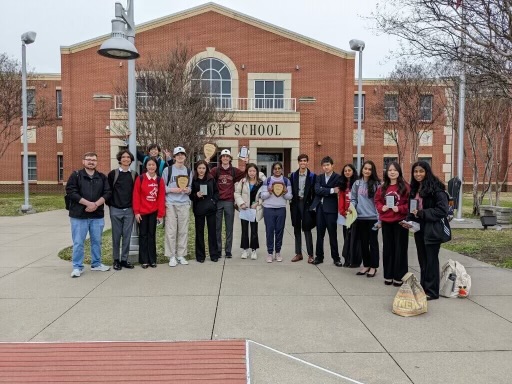 As debate season reached its end, many students advanced to the next level. The National Speech and Debate Association qualifications have been released, rewarding students the chance to compete on a larger scale. 
"[To make it to the national tournament] you have to advance far enough at tournaments," freshman NSDA qualifier Kaitlyn Tapia said. "You do that through winning elimination rounds."
Towards the end of the season, districts all over the country begin hosting tournaments providing students with the opportunity to qualify for NSDA. Debate students qualify by making it to the final round in district tournaments, winning first and second place, allowing them to advance to the next level. 
"Qualifying for nationals came with a lot of preparation, not just preparing for the topic, but also gaining experience in Debate in general," Tapia said. "That just comes from practicing and going to more tournaments."
Ten students from Lovejoy advanced to compete in the national competition: Andy Choy, Paari Palani, David Wise, Tracy Chen, Neola Edwin, Gage Larson, Kaitlyn Tapia, Abby Rodriguez, Alina Srambickal, Romi Kahana and Shruti Subramaniyan. 
"My future goals for the team would be to get us to more tournaments and bigger tournaments on the national circuits," NSDA alternate, Sophia Dong said. "Traveling to somewhere like California for the Stanford tournament or to go to the Harvard tournament as a team instead of individually. [A goal I have] for myself is qualifying for more tournaments and bigger ones like the Tournament of Champions, which is a different type of nationals which is the most competitive and hard to get into."
Speech and Debate provides students with a variety of events. Congressional Debate, Policy Debate, Public Forum Debate, Lincoln Douglas Debate, Dramatic Interpretation, Program Oral Interpretation, and Humorous Interpretation and Informative Speaking were all events LHS students qualified in. 
"My event that I do is called Lincoln Douglas," Dong said. "It's a one on one debate form, which is just you without a partner debating another person. It's mostly on the values and moralities of the debate rather than policy and current event type of argument."
Students will have one final opportunity to compete for a spot at the national competition. It is a virtual tournament called Last Chance Qualifiers set to be hosted in late April. 
"National speech and debate association picks a topic and the kids prepare that topic out," speech and debate coach Reagan Varnell said. "It could be something like 'Should China participate in climate control talks with NATO?' and the topics are usually on a global scale. The kids prep both sides of the case. So whether the Aff, which is 'yes we are for that' or the Neg, 'no we are against it'. We debate either side, but they have to prep those cases ahead of time either for or against."
Throughout the debate season, students compete in many different circuits. NSDA is one of the most prestigious tournaments to compete at because it is recognized on a national level. In June, students from all over the nation will compete in Arizona for national recognition. 
"[Speech and Debate students] are some of the hardest working students I have ever met," said Varnell. "They truly love what they do, they work together, they're collaborative, they are so well versed in topics and they are just incredibly hard workers. They really give it their all and find things that are important to them and are all educated on their topics. I have really enjoyed getting to know them and learning from them this year."