Broadcast students practice their craft as sideline reporters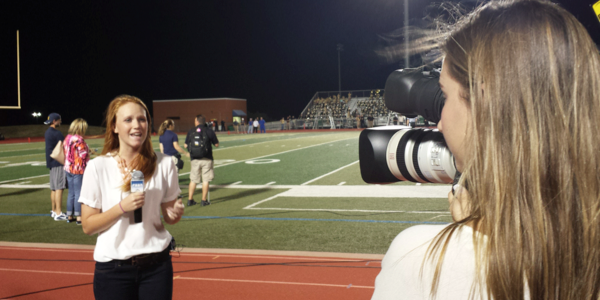 Watching football is nothing new for juniors Paige Sachse and Olivia Whitehead. But while the Leopards are their favorite high school team, the two broadcast journalism students spend their free time as sideline reporters for the streaming broadcasts of the Frisco Student Sports Network at Frisco Memorial Stadium.
"What we do is we tell the crowd what's going on in the game that the people at home can't see. If the fans are doing something then we will talk about that, and we will be on the jumbo screen so everyone can see us," Whitehead said. "It's just kind of like what you see on TV when you see the women do the sideline reporting, that's pretty much what we do."
The two girls got the job through broadcast adviser Brian Higgins' connection with Frisco Student Sports Network director Rowdy Granado and FSSN executive producer Derrick Jackson.
"Now that we both work for school districts, we still keep in touch with one another," Jackson said. "Mr. Higgins knew about our broadcasting program here in Frisco, so he knew what we were trying to do with our football game broadcasts to produce a better, more NFL-like product and having a sideline reporter has always been a part of those discussions for us."
Although Sachse and Whitehead are new to the job, they are handling the task well.
"With any new endeavor that anyone tries, there will be some growing pains, hiccups, if you will," Granado said. "Despite some set backs, mostly being technical on our part, the girls have done a fantastic job. They have taken each experience and have grown from it, truly showing they are getting more comfortable with each report they do from the field."
The experience is invaluable to their work in the classroom as they are getting the chance to do something that isn't available on campus.
"I wish we were able to do something like this here, but with Frisco being such a big school district, there are some opportunities they can offer their students that we can't," Higgins said. "When Derrick mentioned to me they didn't have any sideline reporters this year, I immediately thought of Paige and Olivia. For them to give up their time and drive back and forth to Frisco says so much about their dedication and determination. The experience they are getting doing live sideline reporting is something that will only help our program here."
Because Whitehead is a cheerleader, she attends the Leopard football games on Friday night and reports at the Frisco games on Thursdays. However, Sachse skips Leopard games on Fridays due to her commitment to broadcasting the games at Frisco Memorial Stadium.
"It's hard to miss the Lovejoy games, because I love them so much," Sachse said. "I definitely still pay attention to what's going on at the Lovejoy game through The Red Ledger. I really want to be able to go to our games."
Because there aren't any TV timeouts at high school games, Sachse and Whitehead have to find time throughout the game to broadcast.
"We broadcast before the game starts, during halftime, and in between quarters, and maybe during a long time out or if something big happens," Sachse said.
In order to provide the fans with relevant and reliable information, maximum attention to the game is required.
"You really have to pay attention to what's going on, you have to know your stuff," Sachse said.
"You have to watch the game, come up with something, then hope to memorize it," Whitehead said.  "There's nothing to read from it's just all memorization."
Leave a Comment
About the Contributors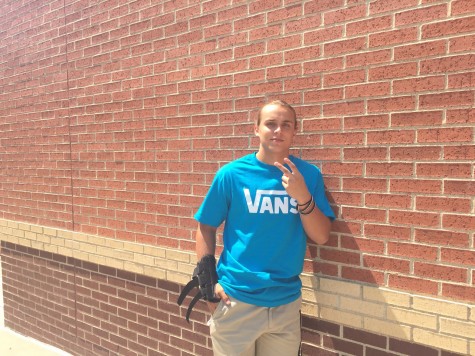 Kevin Davis, Sports Editor
Kevin Davis is returning for his fifth year is the newspaper program in middle school, and is a senior this year. He is also the sports editor of The Red...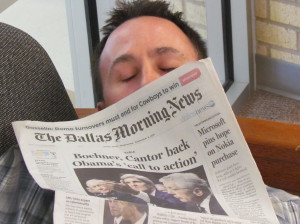 Brian Higgins, Adviser
Brian Higgins (born October 6, 1959) is the U.S. Representative for New York's 26th congressional district, serving since 2005. The district, numbered...