Doug's Disney Chronicles: Part One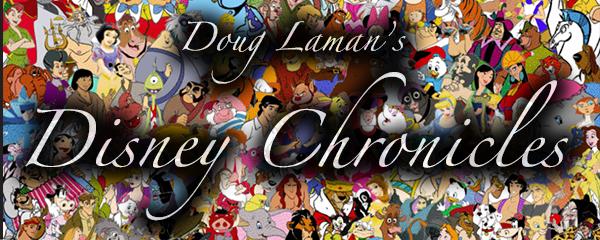 Doug Laman, Staff Reporter/Movie Critic
October 28, 2013
Hang on for a minute...we're trying to find some more stories you might like.
As Walt Disney Animation Studios' 53rd animated feature, Frozen, prepares to enter movie theatres around the globe, The Red Ledger is going on a five week journey to tackle all of Disney's animated films. Each week, we will cover 10 animated features and give a brief analysis of them. This week's, the first ten animated features made by Disney.
1. Snow White and The Seven Dwarfs (1937): At this point, hyperbolic praise is a natural reaction to the very first animated feature in history, and why shouldn't it? The film began a new age for movies and created a new form of filmmaking. Yet, it has to be said, the film itself is mildly disappointing, as it feels very basic and mundane, especially compared to many of the features that would follow. Snow White and her Prince have no characterization and the movies plot is drawn out to almost torturous lengths. That being said, the final half hour is gangbusters, delivering suspense and pathos the rest of the film has been missing, while the Dwarfs themselves are wonderful creations. Grade: B
2. Pinocchio (1940): Ah, here's where Disney truly arrived! This tale of a wooden puppet who dreamed of being a boy is likely to make you laugh, shriek in fear and be swept up in some of the finest protagonists Disney has ever crafted. While the film's more lighthearted moments are some of it's best, the reason the film becomes Disney's first masterpiece is through it's dark moments, which stand out even today as being nothing short of horrifying. Displaying all the darkness and joys life can bring makes each element work even better and makes the titular characters journey that much more riveting. Grade: A
3. Fantasia (1940): As a kid, I was more drawn to the shorter and more coherent Fantasia 2000 than it's classic predecessor, although that's not to say the original film doesn't have it's charms. Segments in this film range from depictions of ballet dancing hippos to dinosaurs to the classic Sorcerer's Apprentice piece, very little of which makes sense (Mickey's being the only one that has a clear beginning, middle and end) but constantly has engaging imagery. While it contains some of the most beautiful imagery ever committed to cinema, it remains more of a curious experiment than a masterpiece. Grade: B
4. Dumbo (1941): Perhaps the oldest Disney movie I've been always been obsessed with, I don't think anyone can legitimately say they despise this fantastic story of an elephant with large ears and dreams of being accepted. While Timothy (Dumbo's mouse comrade) is admittedly little more than a Jiminy Cricket clone, I'll it slide due to how superb the character works in the film, as well as how much right the film gets. Whether it's showcasing the animators extreme talent in the legendary Pink Elephants On Parade scene or tugging at your heartstrings with great success in a sequence showing Dumbo reuniting with his mother, Dumbo remains over 70 years later the perfect underdog story. Grade: A+
5. Bambi (1942): One moment in Bambi has easily outgrown the movie itself; the scene where Bambi's mother is shot and killed. Believe it or not, instead of coming over as melodrama in the film, it actually still works astoundingly well, showing just how well Bambi has aged over the years. With some of the company's best characters like Thumper and Flower onboard, Bambi is an amazing tale depicting a coming-of-age story set within the relentless wild. Simultaneously making the film's protagonists act like humans, while looking like and being treated like animals is one of the films most clever ideas, allowing it a sense of depth that will likely surprise viewers expecting something standard or dull. Grade: A
6. Saludos Amigos (1942): Prior to writing this, I thought I had seen the truly most monotonous and worst kind of cinema Disney Animation had to offer, but after getting to see this for the first time, well, this and it's companion piece The Three Caballeros have certainly shown the depths to which classic Disney cinema could plummet to. Thankfully running only 42 minutes, this film connects four individual segments with the recurring theme of being set in Brazil. While some live-action footage of the artists in various Latin American countries allow for a rare look into their thought process behind animation, the lack of a cohesive narrative structure hinders the film from being anything more than genuine bore. Grade: C-
7. The Three Caballeros (1945): Oh boy! More shenanigans in foreign countries! While Brazil is once again explored, Mexico is also given prominence in the plot which depicts Donald Duck's friends giving him tours of Brazil and Mexico as birthday presents. Donald Duck was shown having glimpses of depth in some shorts that would seem appropriate to dig into in a feature film, but he mainly just reacts to all the live-action scenery he and his two chums face. Aside from a charming short narrated Sterling Holloway (one of my favorite actors of all-time due to his stellar work at Disney), this entire film is one gigantic dud. Grade: D+
8. Make Mine Music (1946): Amazingly, I was unable to see this in time to review it for this column.
9. Fun And Fancy Free (1947): Just in case you worried the magic of Disney was fading, out comes this surprising gem, which mixes what seems to be an extended Silly Symphony dealing with a circus bear with a wonderful tale which brings Goofy, Donald Duck and Mickey Mouse together to reenact Jack And The Beanstalk. This is, as far as I know, the only film from Walt Disney Animation Studios to put Donald Duck, Mickey Mouse and Goofy in a film together, which instantly makes it a historical treat; the fact that they're antics wind up being enjoyable makes it even more so. This one doesn't quite have the beauty or perfection to life it to the heights of Disney's past, it's also an undeniably underrated little gem. Grade: B
10. Melody Time (1948): Similar to Make Mine Music, this is the only other Disney animated feature that I have not seen.
Next Week: Numbers 11-20, in which Mr. Toad and Cinderella are covered, as well as one of my favorite movies of all-time.