Abraham Lincoln: Vampire Hunter book review
Hang on for a minute...we're trying to find some more stories you might like.
It is quite possibly the strangest premise of a book written in the past decade. Abraham Lincoln, 16th president of the United States, devoted father and husband, "Honest Abe", and…vampire hunter? Strange as it sounds, the book actually works.
The mash-up novel mixes in actual historical events and seemingly real events from Lincoln's journal with an entire plotline about Lincoln's secondary profession – vampire hunting.
Compelling, addictive, and fascinating, readers will be hooked on this book as soon as the plot starts progressing.  Seth Grahame-Smith is so historically accurate (aside from, of course, the vampires) and uses so many historical details that it makes the reader feel as though they are reading an actual autobiography from Lincoln. Of course, there is one major change that Grahame-Smith decides to make in his plot – it is revealed that the Civil War was actually started by the vampires in the south so that they could conquer the north and enslave all of the humans of America.
The plot follows Lincoln from age eleven, where his father introduces him to the underground vampire hunting society, and explains that Lincoln's mother died of being given a "fool's dose" of vampire blood, thus prompting Lincoln to dedicate his life to kill as many vampires as he can. Throughout the novel, real-life characters such as his fiancée Ann Rutledge, his wife Mary Todd Lincoln, William Seward, John Wilkes Booth (Lincoln's assassin and, in this novel, a vampire) and a cameo from none other than the mysterious author Edgar Allan Poe, Lincoln's friend and fellow vampire hunter.
One disclaimer for future U.S. History students –just remember that, despite how real the story appears to be, it is not real. Don't be that kid that writes an entire essay on how the U.S. Civil War was actually part of a complex fight between the good vampires and the bad vampires and saving all American humans from becoming slaves to the vampires unless you plan on getting labeled as completely insane.
All in all, Seth Grahame-Smith takes a major risk with this novel, but his re-telling of the story of Lincoln's life is so tastefully compiled that he really makes the novel work. When I first saw the previews for the film to be released this summer, it looked phenomenal. Of course, my friends who also saw the previews thought that it looked like the strangest movie ever. My advice? Just bear with the far-fetched idea, give yourself a couple hours to sit down and read the book, and I promise you, Abraham Lincoln: Vampire Hunter will not disappoint.

About the Writer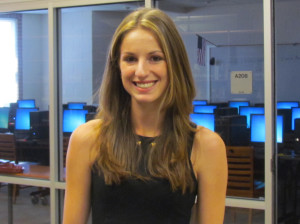 Olivia Griffin, News Editor
Olivia Griffin can't wait to use the "but…I'm a Senior!" excuse as the answer to all of life's problems. As far as college next year, she will probably be attending a school that involves wearing a gaudy amount of burnt orange or maroon, where she will study Biomedical Sciences and Anthropology, and continue to ride in equestrian competitions. While everyone believes that their dog is the best, Olivia truly does own the best dog in the world, a rescue named Henry. When she grows up, she wants to be Kate Middleton. She can be found in her spare time contemplating the meaning of the movie "Donnie Darko", and uses the book "What Would Audrey Hepburn Do?" as her guide to life. She is a polyglot and speaks English (duh), Spanish, and French, and can often be found eavesdropping on unsuspecting foreigners' conversations. Oh, and she doesn't like bacon.