American Idiot comes to Dallas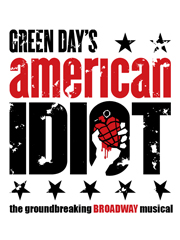 Broadway's latest hit, American Idiot, inspired by the music of Green Day, came to the brand new name Winspear Opera House/AT&T Performing Arts Center in the Arts District of downtown Dallas last week as part of its first US tour.
Billie Joe Armstrong and Michael Mayer's one-act musical tells the story of making decisions, facing consequences, and growing up. It tells the stories of three friends who follow different paths in life after fleeing the fictitious suburban Jingletown, U.S.A. and try to figure out their paths in life and enjoy the adventure of living in the big city. However, as soon as the main character Johnny/"Jesus of Suburbia" finds the temptations of the city life and falls into a heroin addiction, his alter-ego figure "St. Jimmy" begins to take over his actions and progressively destroy his life. Additionally interesting was the political and social viewpoints of the show and underlying themes of the influences of the media and the current state of America.
The most notable feature of American Idiot was the innovative set and nontraditional features in the musical, such as having the band on stage, making it more like a concert than a theatrical performance. The set managed to portray various scenes with minimal changes and set pieces, proving that a musical does not need to have elaborate set designs or complex scene changes to have an effectively constructed set.
The vocals of the performers were pristine and well-rehearsed. Van Hughes' performance of "When It's Time" was the most memorable of the night. The "Extraordinary Girl" scene, which used special effects to give the audience the impression that the actors are actually flying across the stage, was incredible. Kudos to the directors and choreographers for choosing to limit the flying sequences to one scene, making it unique and exciting rather than overusing it and losing the "wow" factor.
The main weakness of the musical was its lack of plot and character development. Really, it felt like a combination of Green Day songs with the occasional story behind it than an entire story. Throughout most of the show, it was never clearly explained what was going on and who the characters were, making the characters impossible to connect to and completely confusing for the audience members attempting to follow the story.