A war worth watching
A fusion of love, laughs, and explosions, This Means War left the audience doubled over with laughter. With never a dull moment, the outstanding cast and hilarious script made it the best romantic comedy so far this year.
FDR Foster (Chris Pine) and Tuck (Tom Hardy) are CIA partners and best friends. But when they unknowingly begin dating the same girl, their friendship is tested as they both vie for the affections of Lauren (Reese Witherspoon). What begins as a gentleman's agreement develops into a competition, and they turn to sabotaging each other's chances with the girl, leading to some creative and hilarious dates gone wrong.
The classic romantic comedy plot line is enhanced by the twist of a revenge-seeking mobster who is searching for the partners as the movie progresses. Although the movie would still have been satisfactory without the showdown between the agents and mobster Heinrich (Til Schweiger), it would not have appealed to fans of action in addition to fans of comedies. The plot was easy to follow and entertaining through and through.
The cast of the movie was truly phenomenal. Reese Witherspoon was her usual charming self, and the audience could not help but sympathize with her as she struggled to decide between the two competitors. Playing Lauren's best friend and advisor was Chelsea Handley, and her raunchy and amusing advice left members of the crowd dying from laughter. Pine and Hardy were perfect for their roles, one playing the smooth and sexy womanizer and the other the lovable and slightly out of practice divorcee. The dynamic between the two friends was commendable, and the pranks they played on each other kept the viewers laughing.
If there was a flaw with the film, it would be the predictability of the ending. It was a typical, rather cheesy closure that, while it did leave watchers satisfied with the happy ending, left something to be desired in the originality department. However, there was never any uncertainty as to what genre the movie was- a feel good romantic comedy with several memorable one liners and a predictable happy ending. In this manner, it met and surpassed all expectations. Many recent romantic comedies have been overrated and unnecessarily inappropriate, and still not even that funny. But This Means War was exactly what one would hope a romantic comedy would be- a safe, amusing film with a cute, happy ending.
About the Writer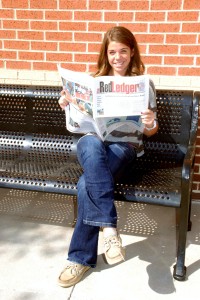 Ginger Hervey, Editor-in-chief
Ginger Hervey cried on her eleventh birthday when she didn't get a Hogwarts letter. If there was an Olympic event for sitting around in sweatpants, eating...