Joyful Noise rings true but a little flat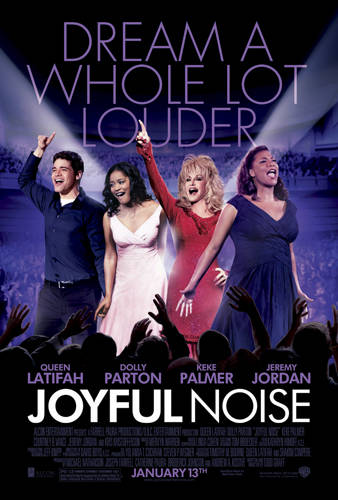 Good moral, bad organization, Joyful Noise, the "gospel pop fairy tale." The mix of Glee with gospel and pop music combined leads to some very different combinations, leaving people curious to what the movie would be like.
The story is based on a church choir who goes to a competition every year and loses every year in the semifinals. This one year, when the movie takes place, there are some changes to the choir. Some people die and there are some new additions to the group causing change in the overall performance of the choir.
The movie goes from scene to scene and hops from place to place and at the beginning is very difficult to follow. Also there are several details to the story that really didn't need to be in the movie and in the end just dragged out the movie much longer than it should've been in the first place.
Queen Latifah (Vi Rose Hill) and Dolly Parton (G.G.) are the two main singers that partook in this movie. Keke Palmer plays Olivia, Vi Rose's daughter and newcomer Jeremy Jordan plays Randy as G.G.'s grandson. G.G. and Randy and their family are very different from Vi and Olivia. Vi and her family are more conservative while G.G. and her grandson are more active and crazy. The two women are constantly arguing and have a hard time facing both of their clashing personalitites and it adds tension when Olivia and Randy start to date. But the majority of the movie is about following God and singing through him in the choir's performances.
Among the songs included in the movie: "Maybe I'm Amazed," "That's the Way God Planned It," "I Want to Take You Higher," and "Man In the Mirror."
The acting and directing were not exactly award worthy but the purpose of the movie was good. The main theme is that to live through God was ulitmately fulfilling. Anything that has spirtual meaning typically touches most people's hearts, and that's what this movie did. People were so absorbed by the positive message of "singing through God" that the majority didn't pay attention to the C minus acting or not so funny one liners.
About the Writer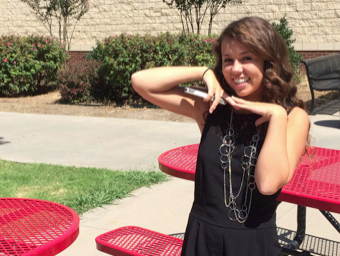 Katie Curry, Staff Reporter
Mike and Ikes, puppies, jeeps, One Tree Hill, and ice cream...lots and lots of ice cream; it's Katie. Her life pretty much consists of these things with...