Boys basketball laces up for the final time
The boys basketball team concluded their season on Monday with a 44-35 loss in the first round of playoffs against Crandall. The boys finished the season with a 23-8 overall record.
"We made a lot of mistakes and we should have cleaned up on both the offensive and defensive end," senior guard Jackson Wood said. "It was a physical game, and there were some calls that were made against us or things that weren't called, but overall, we should have won that game."
In the second to last district game against Melissa, senior starting forward and the team's leading scorer, Karson Templin broke his hand. He had surgery and was cleared to play hours before Monday's game. He played with a soft cast that allowed him to play but restricted him from being able to shoot and finish around the rim at a normal level.
"Crandall was a well-coached and disciplined team," senior, guard Parker Patel said. "Not having Karson affected our offensive and defensive game plan. On offense, we had to play five out and had to rely on other people to step up especially down low."
The boys finished their season as district champions with an 11-1 district record. 
"We had a great season. We all fought really hard and came up short, but the journey was so fun," senior forward William Parkhurst said. "Throughout the season, we most improved in how we picked each other up and encouraged one another. We had players step up in big spots all season." 
Last year, the team finished as district champions and made a third-round exit in the playoffs. The team had four of the five starters graduate. This season, the team had eight seniors and five of them started. 
"We had a lot of leadership and experience on our team." Wood said, "With nine seniors we had guys who have been around the game of basketball for a long time. We also have great team chemistry, we spent a lot of time together and the ups and the downs brought us all close together."
Seniors Templin, Parkhurst, and guard Akshat Saini received first-team all-district honors. In addition, seniors Wood and Patel, were named second-team all-district. Sophomore guard Tate Ziemkiewicz was awarded sixth man of the year. Templin also received the district MVP award. 
"The family aspect we built this season is what contributed to our success," Parkhurst said. "The future of Lovejoy basketball is in great hands. We have two amazing coaches, Coach Herrema, and Coach Miller, and our young players have so much potential that I know they will live up to." 
Leave a Comment
About the Writer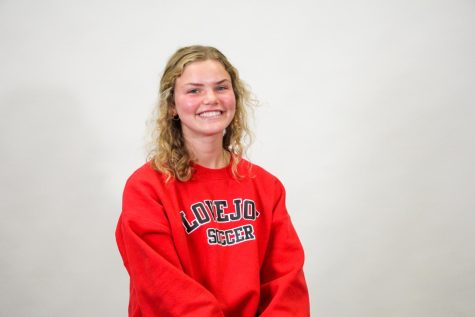 Margo Friloux, Section Editor
Entering her final year on staff, Margo is excited to work with her Co-Sports Editor and Leopard Life alum, Will Doig. This year is bittersweet to Friloux....