Boys and girls basketball tips off the year
The boys and girls basketball teams finally entered the season play after months of offseason preparation. The girls team played two games against Krum Bobcats and Frisco Heritage. On Friday night, the team lost a hard-fought matchup 65-50 against Krum, but beat Frisco Heritage 61-40 in the following game at home on Tuesday.
"My expectations are to win every game and make it as far as possible in the playoffs," senior Shelby Tokarz said. "Our goal as a team is to make it to the state tournament." 
Senior Samantha Basson led the team with 18 points in Friday night's loss. Senior Chole Schaeffer led the team in offensive rebounds with three and junior Sydney Carr came away with three offensive and a defensive rebound.
"The team dynamic is really great," senior Chloe Schaeffer said. "We work well together and we have a lot of seniors on the team so we've been playing together for a while so we're excited to finish it out together hoping for a big winning season." 
The Leopards hosted a Frisco Heritage on Tuesday and came out on top for their first win of the season improving to 1-3. 
"It felt great to finally win a game, I was proud of my team and we played hard," Tokarz said. "We went over the game plan multiple times, we knew we had to make shots in the first quarter to start off great. We had a lot of energy coming into the game.
Basson led Tuesday's game with 19 points and junior Brinley Ludlow had nine on the night. The Leopards sank nine three-pointers and had a total of 26 points in the paint. 
"Tuesday's game went great, we won and played super good as a team together," Schaeffer said. "We came up with strong energy in the first quarter that got us out to a great lead that we were able to maintain and win the game."
The boys team played their first game last Friday against Frisco Lebanon Trail. The team came out victorious and improved to 1-0. 
"Friday felt really good to get back on the court and get a big win [against] Lebanon trail," senior Karson Templin said. "We play really well with each other and everybody on the team plays so hard which makes us really good."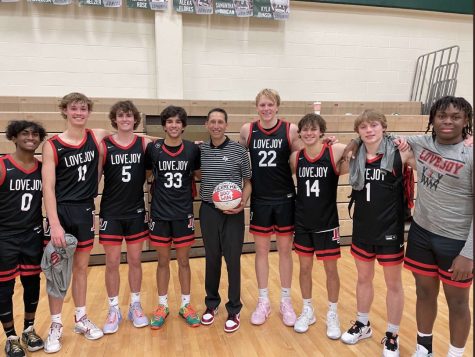 Templin led the team in points on Friday with 30 points. Senior Will McLaughlin helped pack on points, contributing twelve points. Senior Akshat Saini contributed eight points, six assists and four rebounds. The Leopards had a total of 10 points on transition and 11 points off turnovers, while Lebanon Trail had four. 
"The team dynamic this year is great because we have all been friends off the court for a long time," senior Alfred Cheatham said. "All the practices and tournaments that we had before the season made playing the first game feel very natural." 
On Tuesday, the boys traveled to play the Mesquite Poteet Pirates. The Leopards extended their win streak to two games, defeating the Pirates 46-23. 
"We won by 23 and played great team defense," senior Parker Patel said. "I think we can improve a little on our defensive rebounding but so far we have played good overall."
On Tuesday, in the third quarter, the team outscored Poteet 20-2, putting the team on top to secure the victory. The win also gave head coach Kyle Herrema's 300th win of his career.
"I'm most excited to see the team reach its full potential," Templin said. "We have eight seniors who have been in the program for a long time and now, finally, are all playing together. It's been a lot of fun and we have looked really good so far."
Leave a Comment
About the Contributor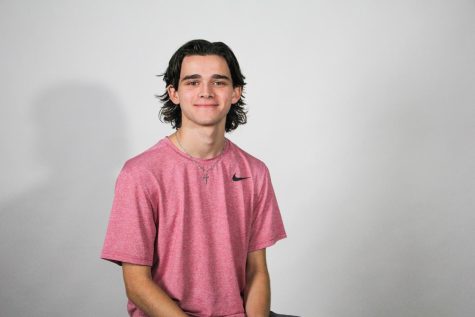 Nicholas Spooner, Staff Writer
Senior Nick Spooner enters his first year on The Red Ledger staff writing sports. Spooner is involved in PALS and plays lacrosse for the high school. Outside...