Football dominates against Denison
The football team continued their undefeated district run with a 51-7 win against the Denison Yellow Jackets last Friday. The team is now 3-2 on the season and 2-0 in district.
"Our offense was really good in the run game," junior running back Dante Dean said. "We ran for about 10 yards each carry and our defense shut them down almost every drive and helped them to seven points." 
The game began with a 41-yard touchdown pass to senior receiver Jaxson Lavender to give the Leopards a 7-0 lead. Then, junior running back Matthew Mainord ran six yards into the endzone putting the team up 14-0 at the end of the first quarter. 
"Our strength was running the ball and our screen throw," Mainord said. "We started off the game strong on both offense and defense, and we were able to finish the first half 21-0 and two of those touchdowns were scored off the run."
Lavender had two touchdowns on the night; one being a 41-yard reception and the other a 35-yard grab. Mainord also had three touchdowns, Dean had one and junior linebacker Payton Pierce also had one.
"I feel the team performed very well against Denison," Lavender said. "We did what we needed to do and we did it to the ability we were expected, so you can't complain much about a kind of win like that."
The offense had a total of 208 rushing yards and 193 passing yards. The defense was able to hold the Yellowjackets to one touchdown. 
"Our biggest challenge in this game was managing the clock on both sides of the ball," Lavender said. "Our defense needed to get their offense off the field as quickly as possible and our offense needed to score as quickly and efficiently as possible."
The team has a bye week this week and the following week the team will be hosting Princeton who is 0-2 on the district season and 1-4 overall. The game will be on the Leopards' home turf.
"We have different focus points every week," Mainord said. "They differ week to week depending on our opponent and our previous game. A main focus for all weeks is just execution at a high level."
The team has said that they have high expectations on not only performance this year, but also team chemistry. Going forward, the team's overall goal is a state championship title.
"This season we're focusing on getting better every day," Dean said. "We're making sure our work ethic is there every day and that we're always helping our teammates improve."
Leave a Comment
About the Writer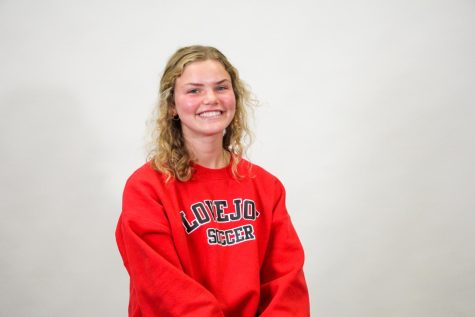 Margo Friloux, Section Editor
Entering her final year on staff, Margo is excited to work with her Co-Sports Editor and Leopard Life alum, Will Doig. This year is bittersweet to Friloux....