Track sprints through area meet
The track team competed at the area meet last Thursday. The girls dominated the meet finishing as Area champions with 105 points and second place following at 72 points. The boys team placed in third with 71 points. 
"[Area] was a fun experience for the team, and it's always nice to win," head girls coach Carly Littlefield said. "However, the best part is seeing the girls hit big marks, times and achieving goals that they have worked very hard for. It also keeps them advancing to the next level—Regionals. So we are pumped about that."
The girls distance team racked up some points on Thursday in the mile and 3200 meter. Sophomores Kailey Littlefield placed first in the mile running a 4:58.30, and Sara Morefield came in third with a time of 5:07.63. In the 3200 meter race, the Morefield sisters swept the competition. Junior Amy Morefield finished in first running a 10:48.34, and Sara came in second place with a time of 10:55.55.
"I am so happy that we placed first in area as a team because it showed all of our hard work paid off, and we now know what we are truly capable of," Sara said. "Our distance group has been working hard on our endurance along with our mindset, so our success at Area displayed our improvement and potential at Regionals."
The girls team dominated the podium in the 800 meter dash. Kailey placed first with a new PR of 2:07.50 which is the fastest 800 time in the state and fifth in the nation. Amy came in second with a time of 2:17.27, and senior Katie Armstrong was close behind in third running a 2:20.32.
"Every girl showed up and performed to the best of her ability at Area," Carly said. "I could not have asked anything more of them. It was an amazing day of racing."
Carly says that some big standout performances at the Area meet were by the 4×200 relay, 4×400 relay and the pole vaulters. Both relays qualified for Regionals and set new personal and school records. The 4×200 placed fourth and ran a 1:42.07, and the 4×400 came in first running a 3:49.48. In pole vault, both athletes qualified. Junior Sarah Salsgiver came in third with a height of 10 feet 6 inches and sophomore Brinley Ludlow placed fourth clearing 8 feet 6 inches.
"The team's success at meets has improved throughout the season because all of our sprinters have gotten significantly faster, and the pole vaulters have worked hard every day after school to perfect their form," Sara said. "The vaulters and sprinters are winning more events which adds to our overall team score and helps us win meets."
The boys team placed third at districts and qualified seven events to the regional meet.
Three field events qualified those being junior West Wilson in Shot Put, placing fourth with a distance of 45 feet 6.75 inches and sophomore Colston Adamson in both high jump, placing second clearing 6 feet 4 inches and long jump, finishing in fourth with 22 feet 7.50 inches. 
"Our field athletes have been working hard this year and performing great at meets, which has contributed to our great success as a team," Carly said.
On the track, the boys qualified the 4×100 relay, 4×400 relay, 400 meter and 800 meter dash. Juniors Jaxon Lavender, Mason Wallace, Kyle Parker and sophomore Parker Livingstone placed third in the 4×100 relay with a time of 41.71. The 4×400 relay consisting of Lavender, Livingstone and seniors Omari Murdock and Riley McGowan came in second running a 3:16.10. McGowan also advanced in the 400 and 800 meter; he placed third in the 400 meter, running a 48.46 and second in the 800 meter with a time of 1:57.62.
"The team has seen insane improvement over the past year or two," McGowan said. "In previous years, most of our points were earned from our decorated distance program, and we never had strong enough sprints to earn points. However, in the past two years, our growth on the sprinting side has seen wild exponential growth, and now our team composition is stronger and more record-setting than ever."
The team will send 18 athletes in 19 events to compete at the Regional meet this Friday and Saturday. The team will focus on rest towards the end of the week in preparation for Regionals.
"We will have a hard workout on Monday, and then sharpen up and prepare the rest of the week for the prelims on Friday and finals on Saturday at UT Arlington."
Leave a Comment
About the Writer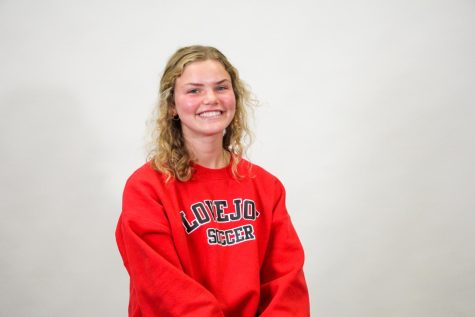 Margo Friloux, Section Editor
Entering her final year on staff, Margo is excited to work with her Co-Sports Editor and Leopard Life alum, Will Doig. This year is bittersweet to Friloux....