Boys basketball's final farewell
Nearly two weeks have passed since the boys basketball team finished off their season with a 66-53 loss to Frisco Memorial. The team completed the season with the best record in school history, 32-5. 
"We gave it our all into the game," senior small forward Kidus Getenet said. "A lot of things that game didn't go our way or as we have expected, but the fact we played through all that adversity showed the character in us."
The boys competed in the regional quarterfinals championship game on March 1 against Memorial, who is ranked No. 10 in the state and No. 3 in the 5A division.
"I don't think we played our best basketball," junior power forward Karson Templin said. "We were shaken up by the atmosphere and I think if we could play them again we would win. It just wasn't our night."
The game started close with a halftime score of 21-24. The team was outscored by Memorial 42-32 in the second half.
"From an effort standpoint we played as hard as we could and left nothing on the table," head coach Kyle Herrema said. "I don't think we played our best offensive or defensive game of the year but I'm still extremely proud of the boys. Memorial had a good game plan in that they essentially double-teamed Karson. It made it tough for entries and drives."
The team finished their season ranked No. 56 in the state and No. 13 in the 5A division.
"The success of this season means a lot to me," Getenet said. "It shows that from freshman year all the way up until now the work we put in wasn't all for nothing. We turned a season where there was doubt to one of the best seasons in lovejoy history."
The team finished out the season holding the title of district, bi-district, and area champions. 
"We graduated a lot of kids from the previous year and some people doubted what type of year we would have this year," Herrema said. "[Our success] proves that if everyone collectively puts in a great effort and pulls the rope in the same direction, you can have an amazing season."
This season the team went 12-2 in district and 32-5 overall. The team earned the best record in school history. 
"We figured out what kind of team we were throughout the season," Templin said. "Our team became very physical and would beat teams by just playing good defense."
The team is losing a majority of their production as four of their five starters will graduate. Seniors Taiden Connor, Jax Thompson, Getenet, and Pete Peabody. Along with contributors Garrett Norwood and Marco Gaccione. 
"Lovejoy basketball has had one of the biggest impacts in my life so far," Getenet said. "My biggest takeaway from my career is the bonds we were able to form throughout the season. It was like a family the way we all blended together and we made memorable memories together."
Leave a Comment
About the Writer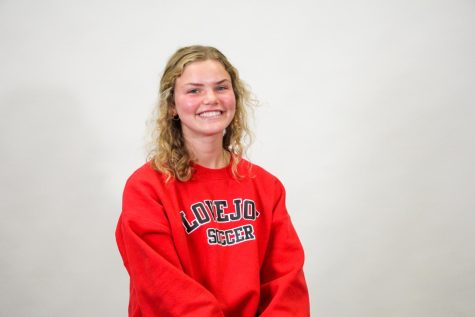 Margo Friloux, Section Editor
Entering her final year on staff, Margo is excited to work with her Co-Sports Editor and Leopard Life alum, Will Doig. This year is bittersweet to Friloux....