Boys basketball claims district title
Back-to-back three pointers from junior Pete Peabody and senior Carson Holden helped the team hold on to the lead and win their share of the district title. On Friday, the boys basketball team defeated The Colony by a score of 56 to 50 to claim the district title.
"I think we were well prepared for the game," said senior guard Carson Holden. "We had to contain their star player. Last game we held him to two points, and this game we held him to a small amount also."
According to head coach Kyle Herema, the boys came out with a slow start. The team was outscored in the first quarter 13 to 8, and let up 8 more turnovers than their opponent.
"We struggled in the first quarter, especially with turnovers," Herema said. 
However, the team put in lots of effort before the game, according to senior Mitchell Weaver. Holden was able to reach a career milestone of 1,000 points this game. The team outrebounded The Colony 33 to 21.
"We had watched lots of film of the other team and knew our game plan going into that game," senior guard Weaver said.
Holden, having a "win-first" mentality, put up 24 points to help his team come back and win the game. Holden shot 9/14 from the field and 3/7 from the three point line. This was the team's last home game of the season before the playoffs. 
"We had a really strong second and fourth quarter that led us to the win," Holden said.
The team had little time to practice in the days leading up to the game, but according to Herema, the team gave a tremendous amount of effort despite the difficulties before the game.
"We weren't nearly as prepared as usual because we had no practice time, but I give the boys a lot of credit for consuming the information from the scouting report and film," Herema said. "They were dialed in, and I am really proud of this team and what they've accomplished in the last two weeks. Eight games in 12 days with five road contests and to go undefeated, a Herculean effort."
Leave a Comment
About the Writer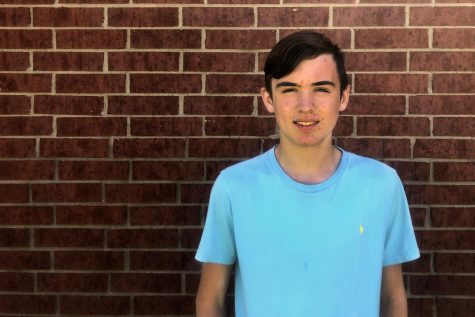 Christian Giordano, Staff Writer, LNN Reporter
Freshman Christian Giordano started journalism in middle school before continuing in high school with The Red Ledger and Lovejoy News Network. Christian...