Soccer continues district play
The boys and girls soccer teams started their district season last Friday with a game against The Colony, and a game yesterday against Wylie East. Both teams won one game and lost one, contributing to their district records of 1-1. 
"The team played well in what was a tough game against a team [The Colony] that will compete for the district championship," girls head coach Ian Keeble said.
The girls defeated The Colony with a 4-3 penalty shootout, after a tie of 0-0, and lost to opponent Wylie East 0-5. 
"The team competed well against the colony, one of the top teams we are going to play this year," senior Hailey Downing said, "We learned that the colony is a much better team than we expected, and we can't underestimate them next time."
The girls team shared the district title with Wylie East and Mckinney North last year. They had been preparing specifically for yesterday's game against undefeated Wylie East.
"We expected a tough, physical battle in a game against a top team in the area and one that will compete for the district championship this year," Keeble said. "We have been working as a team all year to play in games like this, and at practice, we focused on some things that will help us specifically in Tuesday's game." 
Districts began for the boys team with a loss to The Colony 0-2 on Friday and a victory against Wylie East 3-0 in last night's game. 
"We've been training really hard every day and making sure that we have good team chemistry," senior Gavin Moore said. "Our main focus this season is to take our season game by game and hopefully win our district and then get into the later rounds for state."
Both teams will face Princeton on Friday, continuing their district season. The teams are working to build their chemistry and play to the best of their abilities throughout this season.
"We are working really hard and working to not leaving the field without knowing we put 110 percent into the game," Downing said. "We are hoping that working on those things will help us be district champs for a second year in a row." 
Leave a Comment
About the Writer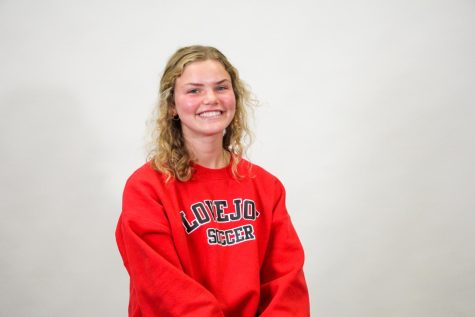 Margo Friloux, Section Editor
Entering her final year on staff, Margo is excited to work with her Co-Sports Editor and Leopard Life alum, Will Doig. This year is bittersweet to Friloux....