Girls soccer dominates against Denison
Despite the game's early end from inclement weather, the girls soccer team pulled off a 5-0 win against Denison on Monday. The team now holds a 17-2-1 record, tying the team's 2011 record of 17-1-7 for most wins. 
"As a team, we have had better games, but at the end of the game we came out strong with the win, even though it ended early and had lightning delays," senior outside forward Avery Templin said. "Individually, I had a consistent game and was able to connect and play with my teammates in the wing position the whole game."
Freshman center mid Emma Nelson led the team with three goals, completing her hat-trick. Senior center back Amiya Callicut, scored a goal while playing forward in the game. Junior center back Natalia Duran De La Vega also scored a goal. 
"The most exciting part of the game was when Emma Nelson got her third goal of her hat-trick," junior center back Mary Mueth said. "I thought that Emma Nelson played extremely well, not only because she got a hat-trick, but because she always tries her hardest."
Juniors left forward Callan Snider and center Emma Smith assisted in the goals, along with freshman center forward Mia Reaugh with two assists. Sophomore keeper Nicole Young, who played forward in last night's game, also assisted. 
"The mindset was really just to play our game: to play hard with intensity, to play smart, and to play together," coach Ian Keeble said. "We just need to get back into the groove of things after taking some time off over spring break."
The team, ranked No. 2, will play Rock Hill, ranked No. 1, on Friday at home. Rock Hill beat the team in February, 4-1 and currently holds a 19-0-1 record. The team will play Frisco Reedy in the first round of playoffs. 
"Next game, we will definitely be picking up our intensity as we play our biggest competition, Rock Hill, in our last game of the season," Templin said. "We are also preparing for playoffs coming up next week, so we are working hard."
Leave a Comment
About the Writer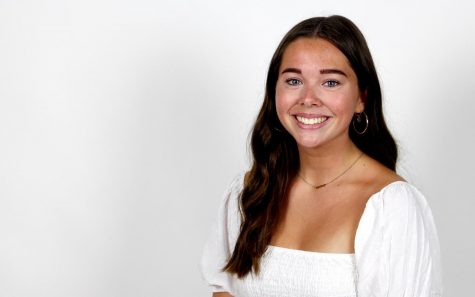 Lindsey Hughes, Editor-In-Chief
Third time's a charm, right? Well, let's hope so because the 2021-2022 school year is the third and final year for senior Lindsey Hughes on TRL. With...