Featured Athlete: Jayden Chester-Lawton
Junior Jayden Chester-Lawton moved to the district this year. He plays basketball in and out of school, and he hopes to continue his basketball career at the collegiate level.
Pre-Game:
Favorite warmup before a game: Turning on some music to focus and prepare for a win
Favorite song: "Dreams and Nightmares" by Meek Mill
Favorite NBA team: Brooklyn Nets
Years playing basketball: Five 
Biggest motivation: Family
Post-Game:
The Red Ledger: What drew you to basketball?
Jayden Chester-Lawson: Basketball just looked so fun, especially seeing all the other players on the court dunk. It just made me want to play.
TRL: How many hours a week do you spend playing and practicing basketball?
JCL: Whenever I'm not doing schoolwork, I'm on the court getting better. I'd stay the night in the gym if I could.
TRL: What is your favorite basketball team memory from this year?
JCL: [It is] definitely the game against McKinney Boyd. With us being down by 10 plus in the final quarter, and then coming back to win the game, it just really made that a game to remember.
TRL: What are your goals for the future?
JCL: I want to play at the highest level I'm capable of and make it to the league for my family. [I'm going to] work out as much as I can and stay focused on my goals.
TRL: What position do you play?
JCL: I typically play shooting guard, but I can play any position I'm asked.
TRL: What are your biggest strengths on the court?

JCL: My biggest strengths would probably be getting to the basketball because no one can really stop me from scoring off of the dribble.
TRL: Who is your role model?
JCL: My uncle Micheal Crabtree [is] definitely [my role model] because I want to be not just as great as he was, but even better. It [my uncle's professional career] motivates me because I've seen him do great things, so it makes me want to do even better.

TRL: What is the biggest challenge you've faced while playing basketball, and how did you overcome it?
JCL: My biggest challenge would be something I deal with everyday, and that's hearing all the critics and people thinking I can't make it to the next level. I overcome it all by just working and getting better everyday.
Leave a Comment
About the Contributor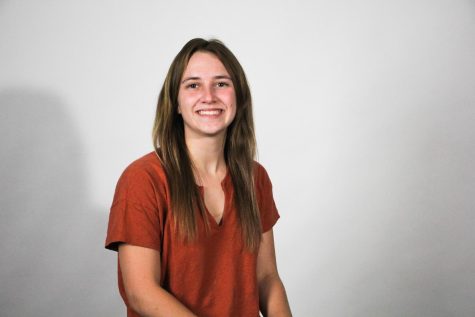 Audrey McCaffity, Section Editor
Beginning her fourth and final year on staff, Audrey McCaffity is more than excited to take on the role of Community Editor. The past four years have been...