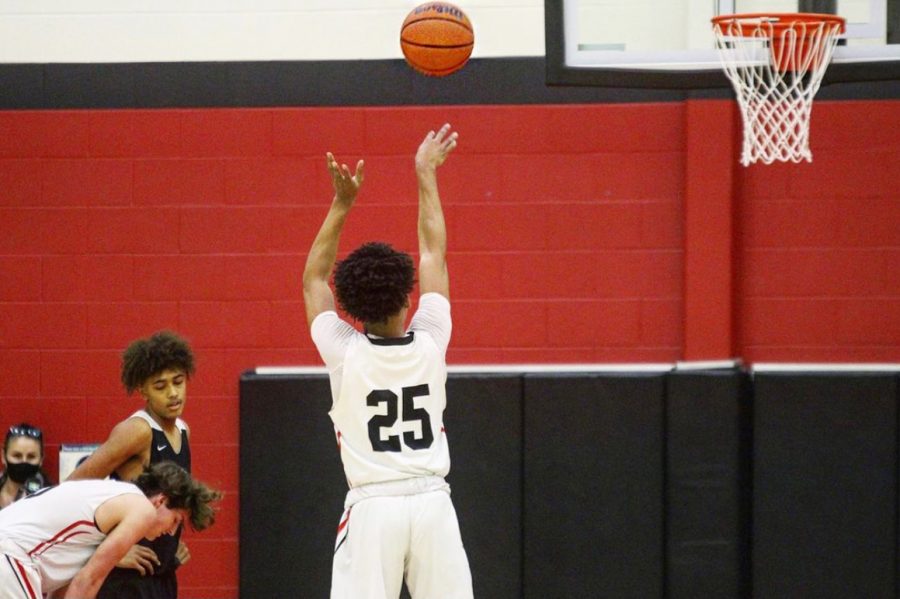 Courtesy of Jayden Lawton
Junior Jayden Chester-Lawton moved to the district this year. He plays basketball in and out of school, and he hopes to continue his basketball career at the collegiate level.
Pre-Game:
Favorite warmup before a game: Turning on some music to focus and prepare for a win
Favorite song: "Dreams and Nightmares" by Meek Mill
Favorite NBA team: Brooklyn Nets
Years playing basketball: Five 
Biggest motivation: Family
Post-Game:
The Red Ledger: What drew you to basketball?
Jayden Chester-Lawson: Basketball just looked so fun, especially seeing all the other players on the court dunk. It just made me want to play.
TRL: How many hours a week do you spend playing and practicing basketball?
JCL: Whenever I'm not doing schoolwork, I'm on the court getting better. I'd stay the night in the gym if I could.
TRL: What is your favorite basketball team memory from this year?
JCL: [It is] definitely the game against McKinney Boyd. With us being down by 10 plus in the final quarter, and then coming back to win the game, it just really made that a game to remember.
TRL: What are your goals for the future?
JCL: I want to play at the highest level I'm capable of and make it to the league for my family. [I'm going to] work out as much as I can and stay focused on my goals.
TRL: What position do you play?
JCL: I typically play shooting guard, but I can play any position I'm asked.
TRL: What are your biggest strengths on the court?

JCL: My biggest strengths would probably be getting to the basketball because no one can really stop me from scoring off of the dribble.
TRL: Who is your role model?
JCL: My uncle Micheal Crabtree [is] definitely [my role model] because I want to be not just as great as he was, but even better. It [my uncle's professional career] motivates me because I've seen him do great things, so it makes me want to do even better.

TRL: What is the biggest challenge you've faced while playing basketball, and how did you overcome it?
JCL: My biggest challenge would be something I deal with everyday, and that's hearing all the critics and people thinking I can't make it to the next level. I overcome it all by just working and getting better everyday.